In a relationship, sex life can become predictable and boring at some point. You know what to expect: Over the weekend you'll have dinner with your partner, take a quick shower, have sex. Then right after that you'll turn the T.V on and that's it – you'll both doze off. Worst, you'll soon schedule your sex life! Now if you want to bring back that "spark" and anticipation then you need to remember the elements of a great, satisfying sex! Read on.
1 Dominance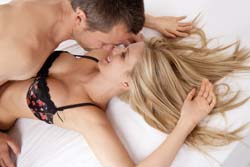 Sure many women today dominate the used-to-be man's world, whether it be taking over the corporate ladder in business or getting into the world of politics. But here's a secret – even the fiercest woman would want an 'alpha male' in bed. That's why it's important that you know what you want, what your partner wants and how you do it. Being an 'alpha male', you need to be the assertive one. You are in total control of your sexual performance and it is how you confidently perform and what movements and techniques you use that can give your woman the most powerful orgasm of her life.
If you've been with your partner for a long time, then you probably know the things that turn her on in and out of bed. From out of bed, you can tell her what to wear and the type of clothing that turns you on the most and make her look stunning to any person. The woman almost always buys clothing and lingerie designed to make her look more desirable to her man. She would spray her sweet-smelling perfume that act like pheromones, making her simply irresistible.
2 Emotion
Smoldering emotions will dissipate as time goes by but this does not mean that the affection and feelings for your love will also wane away. To address this, do something unexpected that will pleasantly surprise her. You can do something spontaneous that it instantly turns her on, like kissing her long and passionate without warning or preparing a special dinner for her. Simple gestures can also make your girl feel special. One thing you can do is going for a walk in the park or drive her to a scenic romantic spot and just be with her.
3 Variety
You can have sex with your partner in different ways and not always inside the bedroom. You can have sex in a GAP or Victoria's Secret department store's dressing room or somewhere public (but safe). You do this not so much as being a sex maniac but more of a way to express her irresistibility in your eyes.