Erectile dysfunction (ED) is a common problem especially for elderly men. It is a serious problem that affects a man's self-esteem. This is why there are many products and medication that are available for ED treatment. However, a natural option is also available which can be tried first before turning to medication and other products that may have adverse effects.
The first step to treat erectile dysfunction should be to consult your doctor. This is important since without a proper diagnosis, you can't be sure that it is really ED. It might be another health condition that is causing your problem. Let's take a look at options for the treatment of ED.
The Natural Approach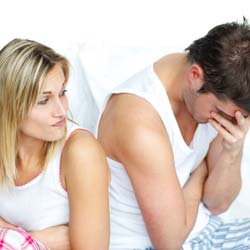 The natural approach on how to treat erectile dysfunction involves a lifestyle makeover. This includes losing weight or maintaining an ideal weight according to the body mass index (BMI).
According to studies, overweight men have lower testosterone levels which can lead to ED. Losing weight and exercising can increase testosterone production and also improve blood flow throughout the body which is also helpful in achieving an erection.
Smoking, drinking alcoholic beverages and using recreational drugs can also decrease testosterone levels and can even lead to impotence in long-term cases.
Another natural approach is sex therapy counselling. ED might be cause by some emotional problems like depression, anxiety or chronic stress. Finding the root of the problem will help you find the right solutions.
According to research, acupuncture therapy also works in many cases of ED. Acupuncture works by naturally healing the body and mind.
Natural Male Enhancers
Another popular option today to treat erectile dysfunction is natural male enhancers. These products basically work by increasing blood flow throughout the body including the penis which helps in achieving an erection.
Natural male enhancers can also help improve sexual performance and satisfaction aside from helping achieve an erection. These products are usually made from proven herbs and other ingredients like Ginkgo Biloba Leaf, Epimedium Leaf Extract, Saw Palmetto Berry, TribulusTerrestris, etc.
Oral Medication
You have probably heard of Viagra which is the most popular oral erectile dysfunction medication. There are many others like Levitra and Cialis. Oral medication is still the most effective ED treatment today.
To determine the best option for you, you need to consult your doctor. Take note that these drugs can cause minor and serious adverse effects so consulting your doctor is very important. Also, be careful of websites that sell these prescription drugs. They are probably selling fakes that may even contain harmful ingredients.
Conclusion
There are many options to treat erectile dysfunction. Just remember that it is always best to consult your doctor not just to ensure that your treatment option is effective but also to make sure that it is safe.