Ambrina Overview
Ambrina is marketed as a 'magic' herbal remedy for male erectile dysfunction. It claims to be the world's best remedy, but offers no proof in the form of clinical studies that back this up. The official Ambrina website is very unprofessional in appearance and tone and does not offer much useful information about the brand which is manufactured by the Pakistani company Ark Corporation. The company also produce other health-related goods which are also featured on their website.
Ambrina can be ordered directly from the company and the website has a secure shopping page. The consumer is entitled to a 60 day money back guarantee but no free samples are offered. There are no customer testimonials shown for Ambrina and there does not appear to be any independent reviews available either.
Ambrina Product Details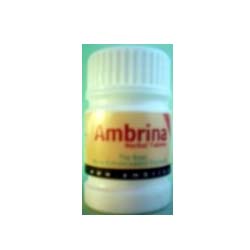 While it is primarily aimed towards men, Ambrina can also be used by women to enhance their sexual performance. For men, Ambrina is claimed to be able to support the size and duration of the erection, support stamina and have an aphrodisiac effect. The product can be taken on a continuous basis to maintain performance at a dose of ½ to 1 capsule per day for 20 days with 2-3 days break between each period. Alternatively, one capsule can be taken one hour before sexual activity for an extra support.
All the ingredients are provided for Ambrina and it contains a long list of 'Himalayan' herbs which include Saw Palmetto, Guarana, Yohimbe, Amber, Ginseng, Kusturi and Delphinium Denudatum. No amounts are given for any ingredient and there is only a vague description as to how they work, which is basically to support the blood flow to the genital area.
Ambrina is available in various quantities, with a four month supply (120 capsules) costing $192.00.
Good About Ambrina
Ambrina can be used by both men and women
Ambrina produces no side effects
All ingredients are 100% natural
A full list of ingredients is provided
The customer can order from the secure shopping section
Ambrina is designed to be fast-acting
The company offers a money back guarantee
Bad About Ambrina
The Ambrina website is unprofessional
No clinical studies are shown
Ambrina is expensive
The product should be taken daily to maintain performance
None of the ingredients are adequately explained
No contact information for Ark Corporation is provided
No free trials or samples are offered
Ambrina The Bottom Line
The whole tone and appearance of the Ambrina website is poor, which detracts greatly from the product's credibility. The company makes some exaggerated claims for their brand and it is very unlikely that Ambrina will support penis size. Some of the ingredients contained in the capsule will support energy, so it may be true that stamina and endurance are supported somewhat. Overall though, a consumer would be advised to opt for a more reputable brand.
Below you'll find the most effective male enhancement products on the market, we determine these products based on 4 key factors : Active ingredients, ability to support sexual stamina, enhance arousal & improved sexual desire, backed by clinical studies. Ultimately, we determined the bottom-line value of each product.