Aspire 36 Overview
There are many products available on the market, particularly over the internet, designed to enhance the sexual performance of men, Aspire 36 being one such product. This brand, which is made in the U.S.A. by Palo Alto Labs, is marketed on the Aspire 36 official website which although containing a reasonable amount of information, is generally questionable in appearance and tone.
The main focus of the website is in regards to the ordering process and Aspire 36 is offered at several different size packages, with discounts being given on larger orders. One bottle of Aspire, which consists of 12 capsules (enough for a one month supply) is $49.99, and there is a 30-day money back guarantee on all orders.
The consumer is provided with a short FAQ section, but no customer testimonials or scientific evidence of positive results. However, unlike some brands, the manufacturer does provide full contact details and the shopping page is secure.
Aspire 36 Product Details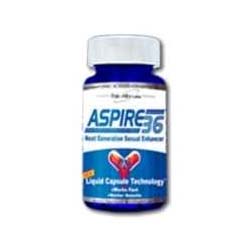 Like most products of this type, Aspire 36 is designed to enhance sexual performance and pleasure, support firmness and confidence and is described as 'revolutionary' by the manufacturer. All the ingredients are listed for Aspire 36, as are their individual amounts and all are natural, herbal substances. The main active ingredients include the aphrodisiac Epimedium, commonly known as Horny Goat weed, the stimulant Avena Sativa, testosterone supporter Tribulus and the immune system enhancer Astragalus. In addition to these, Oleic acid, Velvet Bean, L-Arginine and Euricoma Longifolia are also contained in each liquid capsule.
Any prospective consumer would have to research these ingredients for himself, as no details are provided as to how they work. There is no mention of any side-effects being experienced after taking this product but it should not cause allergic reactions in most users.
Good About Aspire 36
Aspire 36 contains all-natural ingredients
The product has a money back guarantee
Contact information is given for the manufacturing company
The ingredient label is shown
The product is made in the U.S.A.
Buy one, get one free offers are available
Some of the ingredients are commonly-used aphrodisiacs
The product has no known side effects
Bad About Aspire 36
No customer testimonials are provided
The marketing tactics used on the website are questionable
Aspire 36 is expensive
No ingredient explanations are given
No clinical trials are shown
Aspire 36 The Bottom Line
There is no evidence, either clinical or in the form of testimonials, to show that Aspire 36 is really the 'revolutionary' product that it claims to be. While some of the ingredients are said to produce a higher level of sexual pleasure, much of this is hearsay, so the consumer would simply have to judge the product for themselves. However, at almost $50.00 per bottle, they may lose more financially, than they gain physically.
Below you'll find the most effective male enhancement products on the market, we determine these products based on 4 key factors : Active ingredients, ability to support sexual stamina, enhance arousal & improved sexual desire, backed by clinical studies. Ultimately, we determined the bottom-line value of each product.