Prostate health is an issue that all men should consider, but many don't take the time to mind. The result is that many men experience health issues such as an enlarged prostate and problems with their sex lives before they even see a doctor about their prostate health.
A healthy prostate gland is important for the overall health and wellbeing of any man. Men who suffer from an enlarged prostate gland not only experience problems with their sexual performance and decrease in libido, but they can also experience erectile dysfunction, pain in their urinal tract, and problems with urinating.
About BioProstate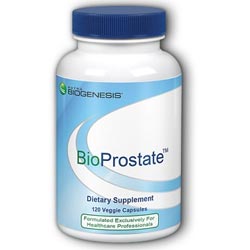 BioProstate is a men's health supplement manufactured by Nutra Biogenesis, Inc., a company that has been well-known to produce products that are aimed for men's sexual health and well-being. BioProstate is a product that is aimed for men who are experienced an enlarged prostate, as well as the accompanying health issues that come with this condition.
The product costs $50.00 for a bottle that contains 120 capsules, and the company only sells directly to healthcare professionals and qualified physicians.
Claims and Features – What You Need To Know?
BioProstate helps promote better prostate health and function for men. It is a blend of natural ingredients that are known to improve prostate health and function. Taking BioProstate will increase testosterone production for men, resulting in increased energy, increased metabolism, and overall sexual health.
Taking BioProstate also help balance the production of DHT (dihydrotestesterone) in men, so that there is a natural and optimal balance between testosterone and DHT. The body naturally produces DHT, which has been linked to hair loss in men. BioProstate helps regulate the levels of DHT in the body so that men don't experience hair loss early.
Finally, BioProstate helps regulate the bladder and urinary tract in men, so that they are healthy and fully functional. This allows for regular and healthy urination.
What Are The Ingredients In BioProstate?
The ingredients in BioProstate are natural ingredients that are known to be used in maintaining prostate health and treating symptoms of an enlarged prostate, such as:
Nettle Root extract – A herbal extract that is traditionally used to treat problems with urination that is linked with enlarged prostate glands.
Zinc – This microelement is known to boost the immune system and increase stamina and strength.
Saw Palmetto Extract – One of the most common compounds used to treat enlarged prostates. This extract helps to reduce swelling by reducing swollen urinary tract lining. This helps regulate urination, and promote a healthy prostate.
Pumpkin Seed – Research has shown that taking pumpkin seed helps reduce irritation and infection in the kidneys and the bladder.
Pygeum Bark Extract – Traditionally, this herbal compound has been used to treat urinary tract, bladder, and kidney infections, as well as regulate urination.
Beta Sitosterol – This compound is used to treat fatigue, as well as symptoms of menopause and andropause in women and men.
BioProstate Benefits
There are several benefits to using BioProstate, such as:
Familiar Ingredients – the ingredients of this product are familiar, and they are traditionally used to treat enlarged prostate, as well as regulate and maintain healthy urinary tracts.
Reputable seller – The company that sells this product, Nutra Biogenesis, is well-known in creating good-quality products, and they will only sell to licensed healthcare professionals.
BioProstate Drawbacks
There are several drawbacks to using BioProstate, such as:
No money-back guarantees or discounts
This product cannot be purchased directly by people who want to use the product; they must consult with a physician and purchase the product from them
No listed ingredient amounts on the bottles
FAQ's
How Should You Take BioProstate?
Once you have consulted with and purchased the product from a licensed physician, 1-2 capsules of the product should be taken daily.
Where Can You Buy BioProstate?
Only licensed physicians and practicing healthcare professionals are able to order the product. You can then purchase BioProstate from your physician once he or she has determined that this product will be beneficial for you.
What Are The Possible Side Effects Of BioProstate?
While there are no negative side effects reported online from people who have used this product, you should still consult with your physician before using this product. Please do not purchase this product from other sources, as you might not be purchasing a legitimate product.
The Bottom Line
Of all the men's health care supplements that are available, it is possible that this is one of the very few products that the general public cannot purchase on their own. Since you need the recommendation of the licensed physician to be able to purchase this product (from the physician), you can be sure that this product is better-regulated and better-prescribed.
If you think that you are suffering from symptoms of an enlarged prostate, or you want to make sure that you maintain the health of your prostate, consult with your physician immediately to see if this product is for you.
Prostate health is of great concern for men today. Preventative measures may reduce the risk of developing prostate cancer and improve overall prostate health and function. A quality, premium prostate supplement may shrink the prostate, minimize frequent urination, promote sexual function and contain quality ingredients.
Below you'll find some of the most effective prostate supplements on the market today, in our opinion.
Our Top Prostate Products
Prostara
Ability to Shrink Enlarged Prostate
Ability to Eliminate Frequent All-Night Urinations & Weak Flow
Ability to Restore Normal Sexual Function
Prostate Plus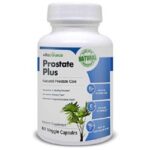 Ability to Shrink Enlarged Prostate
Ability to Eliminate Frequent All-Night Urinations & Weak Flow
Ability to Restore Normal Sexual Function
Prostacet
Ability to Shrink Enlarged Prostate
Ability to Eliminate Frequent All-Night Urinations & Weak Flow
Ability to Restore Normal Sexual Function
Prost8 Plus

Ability to Shrink Enlarged Prostate
Ability to Eliminate Frequent All-Night Urinations & Weak Flow
Ability to Restore Normal Sexual Function