No man wants to find himself with a premature ejaculation problem, but it affects millions of men around the world. The problem is embarrassing because no man wants to admit that he cannot last long in the bedroom. Men brag to each other about their sexual conquests, including where they have sex and how long they lasted. Men dream of being the porn star that can go for hours without stopping. Men that find themselves having problems need a few ways of dealing with premature ejaculation.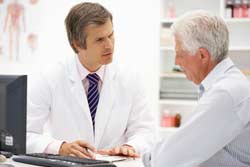 There are a few different ways of dealing with premature ejaculation, including methods that dull the sensation. When a man has sex, he feels pleasant and enjoyable sensations caused by the skin rubbing against each other. Desensitizing sprays and creams numb the penis. You use the cream or spray before intercourse and apply it directly to the penis. The cream method involves rubbing the lotion or cream on, while the spray method is much easier to use. You simply hold the spray bottle a few inches away from the penis and press down. The light mist completely coats the penis, which lets you last longer during intercourse or other sexual activities.
If your current partner takes birth control pills or uses another form of birth control, then you might not use condoms. Many couples in monogamous relationships stop using condoms because they trust each other and do not need protection from sexually transmitted diseases. One way of dealing with premature ejaculation involves using condoms. Condoms completely cover the shaft of the penis and reduce the sensation that you feel during sex. It is a simple way to cope with premature ejaculation because it makes you last longer. Do not make the mistake of using multiple condoms at one time because this can actually make the condoms break.
There are things that you can do during the sexual act that prolong the orgasm. Some men use the "think unsexy thoughts" mentality, where they force themselves to think about unsexy things during sex. Thinking about nuns, your parents, or even sports can take your mind off the sexual act and let you last a little longer. Some men find that dealing with premature ejaculation involves changing sexual positions. The missionary position is easily the best method because it cuts down on the skin on skin contact and gives you more control over how you move.