Deferol Overview
Deferol is a non-Drug supplement that is manufactured by Idist Labs. It is marketed on their informative and comprehensive website that, in addition to product information, also contains details of the problems associated with erectile dysfunction and premature ejaculation, conditions that affect many men in North America.
The Deferol site is easy to navigate and includes customer testimonials, a 'Climax Control' quiz, and FAQ section. Because Deferol can be purchased in independent retail stores, the manufacturers have links to these sites, where one bottle (40 capsules) costs $22.49, which is less expensive than similar brands.
There is a 30-day money back guarantee offered for Deferol and it is likely that the retail store carrying the product will also have its own refund policy. Additionally, there is information showing clinical studies that were performed on the main ingredients in Deferol plus tests performed on the actual formula.
Deferol Product Details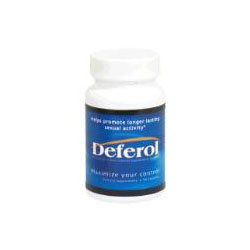 The manufacturer of Deferol makes it clear that that the product is not a complete solution for Erectile Dysfunction, and is not an aphrodisiac. Rather, it helps to maximize control over premature ejaculation, and help the duration of sexual activity.
The ingredients in the Deferol proprietary formula are all listed and include substances that help relieve anxiety (a major contributing factor in Premature Ejaculation), support energy and stamina and balance the ratio of Serotonin and Dopamine levels. Passiflora Coerulea Leaf, Griffonia Seed Extract, Pyridoxal 5-Phosphate (a source of vitamin B6 and B9) and Folic Acid (said to support sperm count) are blended together and require to be taken on a daily basis (1 per day) with an addition of 1-2 extra capsules before sexual activity. These dosages can be customized slightly and the user should experience results within 1 or 2 hours. For those also suffering from Erectile Dysfunction the Drug medication Viagra can be taken in conjunction with Deferol.
Good About Deferol
The ingredients in Deferol are all natural
The product is fast-acting
Deferol is affordable
Deferol is available in retail stores
The main active ingredients are listed and explained
The website contains customer testimonials
Clinical studies are provided
Deferol can be taken with Viagra
A 30-day money back guarantee is offered
Bad About Deferol
Deferol needs to be taken on a consistent basis to maintain performance
The herbal formula may not work as well as a Drug medication
No contact address is given for Idist Labs
Not all the ingredients have their individual amounts provided
Deferol The Bottom Line
While there are many similar products available that address the problem of premature ejaculation, Deferol appears to be one of the more credible brands. It is one of the few that can actually back up their claims with clinical studies and for such a reputable product, it is available at a very reasonable price