Dioxadren Overview
The Dioxadren product is aimed at men who want to support the power and firmness of their erection. It is packaged in a bottle that makes it look like a Drug medication, which it is not. There does not appear to be any official website with information about this brand and there seems to only be one retailer online that sells it. This site does contain limited details about Dioxadren, where it can be purchased for a cost of $59.95 per bottle of 30 capsules. It is more economical to purchase several bottles at once.
A brief description is provided regarding how Dioxadren works, which is much in the same way as the Drug pill Viagra.
Dioxadren Product Details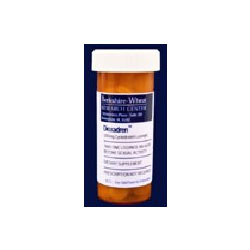 There are no ingredients listed for Dioxadren, which the manufacturers say are blended in a secret proprietary formula. It is known that the product helps shut down the function of the Alpha-2 Adrenergic system, which is responsible to stopping the flow of blood to the penis. By doing so, the user will experience a stronger erection as the penile chamber become engorged with blood. In fact, it is said that it causes a 500% support in blood flow, although no clinical proof is shown to back this up.
Like Viagra, Dioxadren works quickly – in about one hour – allowing for a more spontaneous sex life.
Good About Dioxadren
Dioxadren is fast-acting
Discounts are provided on larger orders
Dioxadren is available at online retailers
A money-back guarantee is shown
Bad About Dioxadren
There is no official website
No ingredients are listed
No clinical studies are shown
The product is expensive
No customer testimonials are shown
Dioxadren The Bottom Line
Even if Dioxadren worked as well as promised, there are not many consumers who would want to purchase an oral product without knowing about all the ingredients. Additionally, Dioxadren is more expensive than many brands and certainly does not appear to be a reputable product that can be recommended.