A lot of people wonder whether male enhancement products are actually effective. There is no easy answer to this question. While some products might create results with short-term improvements in erection quality or duration, they aren't always safe and have been known to cause serious health risks. Therefore, it's safe to say that these products can produce short-term results in some cases, but it is rare and they are generally more dangerous than they are worth. Really, it depends on your definition of 'work'. If you are asking if products do what they claim to do, there are some that will.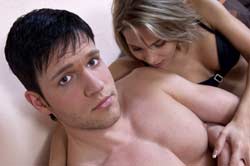 Of course, if you are asking if there are male enhancement products that are safe, effective, and produce the results that they claim to offer, that answer is a little less clear. Safety is a big issue with these types of products. You have to make sure that whatever you are considering, you do a lot of research first. The FDA doesn't regulate these products and that means that there might be a lot of information that you can't ascertain to determine how safe they are. If you can't find side effects, ingredient lists, or a description of what an enhancement product does and its potential risks, you're definitely going to want to walk away.
Even the products that work aren't always safe. If you take a look at the different methods of operation, you will see that most of these supplements work by dilating your blood vessels. Topical creams, of course, are generally limited to the area where they are applied. If you are taking pills or using transdermal patches, however, they won't know the difference between which vessels to dilate. That means that you could face serious issues with your blood pressure, heart health, and other cardiovascular events or health risks by using these products.
So, does male enhancement work? Some products are effective at doing what they claim, yes. However, using them might not always be safe or in your best interests. Ultimately, you have to make sure that you take the time to figure out what you are dealing with. Talk to your doctor, most importantly, because that is the person who will be able to tell you whether you are making the best decision. Most importantly, though, don't buy into the hype without doing your research and figuring out exactly what these products can or cannot do and whether they are worth the investment.