The male menopause myth is one that scientists have discussed for ages. It springs from the fact that many men, most in fact, undergo certain changes later in life. In most cases these changes are subtle, and typically they are considered to be just a part of getting older. This is in contrast to the often severe symptoms of the female menopause which while a predictable side effect of getting older, is anything but subtle. It is different with men, to the point that not all men notice any change at all. Still there are those that make the question worth asking, as they may suffer from symptoms suffered by women in the early stages of menopause.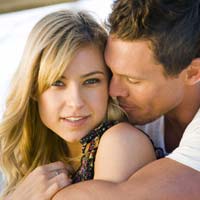 Therefore, the male menopause myth was born. The question is though, is it really a myth? If men go through some sort of change, could that not be a male version of what women go through? Truthfully, it probably is. All men see a marked decrease in testosterone levels later in life. This is similar to women seeing a reduction in and eventual disappearance of estrogen during their on menopausal period. That is pretty much where the differences end however, other than some of the similar symptoms. Though some men may suffer ill effect from the reduction in testosterone, many men will not.
This is due to the fact that testosterone production continues on some level in men throughout their lives, and this level varies for each individual. Therefore, some men will never see a problem and go on being able to have children well into their senior years, while other may suffer from symptoms such as irritability, fatigue, sexual dysfunction, obesity, high blood pressure, depression, and even diabetes. It is these symptoms which make the male menopause appear to some to be more of a myth than a fact at times.
These symptoms are much more often associated with other, much more common issues. If male menopause is even considered as a cause it is usually after nothing else could to get the issues under control. While chronic conditions such as diabetes and high blood pressure may be under control, if the underlying problem is low testosterone and it is fixed, then the condition could resolve itself. The male menopause myth is really not a myth after all, but simply a case of misidentification. It exists, but is it different than its female counterpart in many ways. Once it is acknowledged, it can be routinely tested for through blood tests and treated as needed.