Erexis Overview
Unlike various sexual enhancement brands that need to be taken once a day for it to work its full potential, Erexis guarantees instant results just when you need it the most. Its all-natural formulation aims to heighten sexual stimulation, produce harder and longer lasting erections, support your endurance and energy, and even address penile dysfunction
The Erexis website gives credit to a company called Axium Labs in the footer area-situated in Miami, Florida-but it is not clear whether or not it is this product's developer and manufacturer.
Erexis Product Details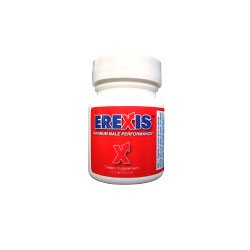 The website has a simple supplement facts sheet in its product information page, but the ingredients mentioned are not elaborately explained. However, the components that make up Erexis' potent formula can also be seen in other products' ingredient list. Tongkat Ali, an herbal extract that's known to have aphrodisiacal effects, supports healthy male sex hormones levels. Horny Goat Weed is another herb known for its positive effects on sexual health and penile function. Other plant extracts in the Erexis formula such as Cordyceps Sinensis and Panax Ginseng facilitate stronger sexual energy, higher endurance levels, and better overall sexual performance.
Also known as the Natural 72-hour Pill, Erexis only needs to be taken in small doses of 1-2 capsules one hour before sexual intercourse. First-time users are recommended to take only 1 capsule; it is not recommended to take more than 3 within 3 days. An Erexis trial pack of 2 capsules costs an affordable $9.95, while a pack for 10 capsules costs $39.95.
Good About Erexis
Made from all-natural ingredients
No known side effects
Affordable
Will still work even when drinking alcohol
Effective for both men and women
Discreet packaging
30-day money-back guarantee
Bad About Erexis
There is limited information about the product manufacturer on the official website
There are no customer testimonials available
There are no results for clinical studies done on the product available on the website for review
Ingredients are not properly explained
Dosage may not exceed 3 capsules within a 72-hour period
Erexis The Bottom Line
Compared to most sexual enhancement products and male dietary supplements that need to be taken daily and regularly, Erexis provides more ease and flexibility in terms of use, since you only need to take it when the need for a sexual performance support arises. It may also be cheaper in terms of price, but extreme caution must be taken-it is not recommended to take more than 3 capsules in a span of 3 days, and for first-time users, it is advised to start off with only a single capsule dosage. Although various product write-ups for Erexis claim it to benefit both men and women as a libido enhancer, the ingredients used in the formula have been linked more to success in penis enlargement. Its effectiveness as a female enhancer still needs to be proven.