Sexual stamina refers to a man's endurance during sexual activity. The sexual stamina of each man varies. Some men can last hours in bed while others easily get tired. There are many possible causes of decreasing sexual stamina. No matter how much men want to perform better and last longer, it is their bodies that hinder them from doing so. If you find yourself having lower sexual stamina as you get older, do not worry as there are things you can do to bring back your sexual endurance. Take advantage of these five tips to last longer in bed and you will feel like the old you.
Lasting Longer in Bed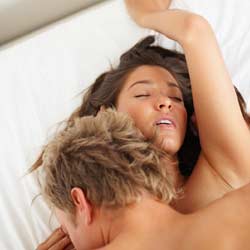 Longer Foreplay – Consider foreplay as the opening act before the deed itself. This is where you get aroused. It is actually a process of heightening your sexual desire which can lead to a more satisfying orgasm. To last longer in bed, you need to have a longer foreplay before going into the main event. No matter how anxious or excited you are, prolong foreplay as much as you can in order to last longer before reaching orgasm.
Control Sex Stages – Are you aware of the four sex stages? These are building, peak, orgasm and satisfaction. Taking control of these sex stages allows you to last longer in bed. Take time in each stage and do not rush to the satisfaction stage immediately. When you take time and control these stages, you will end up with a more gratifying experience rather than a disappointing conclusion because you were too excited.
Do Kegels – Kegel exercises are usually performed by women to tighten the vagina walls. But, it can also work with men too, especially to those who want to be more control of their ejaculations. Through doing Kegel exercises, you can control the ejaculatory response better. It is an exercise which you can do anytime at your convenience. Do it while driving a car, riding the elevator or when sitting on the couch.
Masturbate – Many men avoid masturbating so they will have more enjoyable sex. However, when men save themselves for that sexual encounter, they end up reaching orgasm very early which totally ruins the moment. Masturbating will help you increase your sexual stamina as it will train you to last longer before ejaculating. Masturbation allows you to delay orgasm as much as possible.
Relax Your Mind – During sexual activity, relax your mind or focus on different things aside from reaching the finish line. The more you think about orgasm, the more you will feel excited. Try to calm your mind yet, enjoy every bit of the sexual pleasure.
Lasting longer in bed is not only a good thing for you but this is something your partner will appreciate as well. Follow these simple tips and you will find yourself having more endurance during sexual activities.