Men today know that pleasing their partners is important when it comes to sex, and so many of them struggle to ensure that they provide their partners with a mind blowing orgasm. But sometimes, it's a lot easier than it seems. The elusiveness of the female orgasm is something that can frustrate men and women, but the fact is that sometimes there are some basic causes behind it. Identifying why it's so hard for her to achieve climax could help you work towards providing her with one.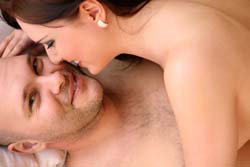 It's estimated that around one third of all women have never experienced an orgasm. Another one third rarely ever have one. That's two thirds of women who never or rarely ever achieve the pure pleasure sensation that one can bring. There are some things that you should keep in mind which may cause elusive orgasm, and before you start spending money on toys, male enhancement products, and other investments, be sure you know what could be holding her back.
Lack of Foreplay – Simply put, it sometimes takes a woman a lot longer to 'warm up' than it does for a man. You need to spend time focusing on foreplay to ensure that she's in the mood before you get started with actual sex.
Lack of Technique – Sometimes, it's simply a matter of poor technique. Women can benefit from g-spot and clitoral stimulation, and sometimes it just doesn't happen unless you work towards it. Try different positions and manually stimulating her 'sweet spots' to help coax her towards climax.
Lack of Passion – Often, a woman's orgasm depends on her overall feelings towards her partner. Things like romance, love, passion, and intimacy can all have a big part in the experience. If you're really trying to give her an experience she won't forget, romancing her the right way could help.
Lack of Understanding – Sometimes, a woman simply doesn't understand her own sexuality and her own body. Often, she may need to focus on uncovering what she enjoys. Men often misunderstand what women like, as well. It's often a good idea to talk to one another about what she prefers and what she doesn't like. An honest, open discussion can work wonders for her orgasm and is something that's well worth doing.
There are numerous other factors that could be causing an elusive orgasm. But these basic points are the primary things couples should focus on in order to start guiding a woman towards pure pleasure and total fulfillment.