Hard 10 Days Overview
Hard 10 Days is a male sexual function product marketed and sold online. There is very little information provided for this brand, despite the fact that it is sold on a number of online retail sites and there is also an official website. As with most products of this kind, it is primarily designed to help enhance the quality of the male erection and is also said to improve the length and girth of the penis, although there is no hard evidence of this.
Hard 10 Days is sold in many different package size options but the smallest amount available is a box of 6 capsules which costs $11.00. There is a 100% satisfaction guarantee but no details of this are provided. In addition to this, there are no customer testimonials or FAQ's, and nothing is known about the manufacturer of the brand.
Hard 10 Days Product Details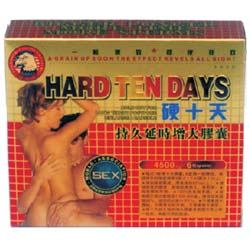 There are some ingredients listed for the Hard 10 Days product and it appears to be a blend of natural, herbal substances. While it doesn't use the popular amino acid L-Arginine, used to help relax and widen the blood vessels, it does contain a number of stimulating ingredients including Tongkat Ali, Gingko Biloba and Cinnamon. Deer Antler is a popular addition to products such as this for it's so-called 'aphrodisiacal' properties and Saw Palmetto is sometimes used to help support overall male sexual health, particularly the prostate.
Hard 10 Days is the type of male sexual supplement that is designed to only be taken prior to sexual activity and the effects are said to last, as the name suggests, up to 10 days.
Good About Hard 10 Days
The effects are long-lasting
All key ingredients are listed
Hard 10 Days has no harmful side effects
It does not require daily dosage
Bad About Hard 10 Days
There are no money back guarantee details shown
The website information is not professional
Ingredients are not explained in detail
The formula does not contain L-Arginine or Tribulus Terrestris
Clinical evidence of results is not shown
Hard 10 Days The Bottom Line
It is unlikely for any product to have effects that last 10 days and if in fact this is true, it would be wise for the manufacturer of Hard 10 Days to supply evidence of this. Without this, and without seeing the ingredient amounts, it is impossible to judge how well the brand works, particularly as it doesn't contain the vital amino acid L-Arginine. In addition to this, the manufacturer is unknown, so it is not known if they are reputable or not and no contact information is supplied for them either. Definitely not a brand to be recommended.
Below you'll find the most effective male enhancement products on the market, we determine these products based on 4 key factors : Active ingredients, ability to support sexual stamina, enhance arousal & improved sexual desire, backed by clinical studies. Ultimately, we determined the bottom-line value of each product.