Hardknight Overview
Hardknight is a male enhancement system that supports libido and helps to achiever stronger and firmer erections. Hardknight is manufactured by Bainbridge & Knight Consumer Product Division, a company that describes itself as wanting to provide the world with the most cutting edge health products available.
Hardknight Product Details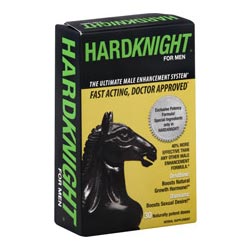 Hardknight is a male enhancement system for firmer and harder erections, as well as supporting stamina, sexual appetite, virility, endurance, and the health of all sexual organs. The main goals are to address issues of lack of libido, and symptoms of erectile dysfunction. Hardknight works by relaxing smooth muscle of the genital region so that the blood flow to the area is supported. Pressure to the corpora cavernosa, or the erectile chamber, is also supported to help expand and harden the penis.
Hardknight contains a blend of eighteen ingredients in a once a day dosage tablet. Ingredients include Niacin, Zinc, L-Arginine, Epimedium, Cinnamon Bark STD Extract, Herba Cistanche Bark Extract, Cnidium Monnier Fruit, Damiana, American Ginseng, Jujube Date, Catuaba Bark Extract, Tongkat Ali, Ginkgo Biloba, Ashwagandha Root Extract, Schisandra Berry Extract, Maca Root Extract and Tribulus.
Niacin works to support blood flow. Zinc supports testosterone production, supports fertility and reduces symptoms of erectile dysfunction. L-Arginine controls Nitric Oxide levels, which help to dilate blood vessels for supported blood, flow to the penis to create firmer and stronger erections. Epimedium, or Horny Goat Weed, also supports blood flow to the penis. Cinnamon Bark STD Extract supports libido and blood flow, and is often used to treat premature ejaculation. Herba Cistanche Bark Extract treats male impotence and improved blood flow. supports levels of hormones in the body. Cnidium Monnier Fruit also supports hormones level, while decreasing symptoms of premature ejaculation, and allowing and support of blood flow to the penis. Damiana has traditionally been used as an aphrodisiac as well as lowering stress levels. American Ginsng also supports blood circulation. Jujuba Date relieves stress, helps with blood circulation, and has been known to have aphrodisiac properties. Catuaba Bark Extract has been used as an aphrodisiac for centuries in Brazil, that also treats impotence. Ginkgo Biloba supports energy and blood flow to the penis. Ashwagandha Root Extract supports stamina, sexual appetite, and performance. Schisandra Berry Extract supports stamina and libido while stabilizing the mood. Maca Root Extract has long been used as an aphrodisiac, energy supporter and to cure male impotence. It has been proven to support volume of semen during ejaculations. Tribulus naturally supports the levels of testosterone in the body to support libido, stamina, and performance in particular.
Good About Hardknight
Manufacturer information available
Contact information available
All natural ingredients
Ingredients clearly listed
Secure, easy to use website
Discreet shipping
No known side effects
Bad About Hardknight
No money-back guarantee
No trial sample available
No clinical trial information given
No customer testimonials available
Hardknight: The Bottom Line
The ingredients for Hardknight are a long list of reasons why the product should be effective, however there is no proof from others available to back up the ingredients. Without a money-back guarantee, clinical trial information, and even customer testimonials, Hardknight could be a risky purchase.
Below you'll find the most effective male enhancement products on the market, we determine these products based on 4 key factors : Active ingredients, ability to support sexual stamina, enhance arousal & improved sexual desire, backed by clinical studies. Ultimately, we determined the bottom-line value of each product.