Herbal Vivid Overview
The Herbal Vivid product is a male enhancement capsule that describes itself as 'the other blue pill', a direct reference to the Drug medication Viagra. The product is advertised on television and marketed on the official Herbal Vivid website. The company behind the brand also manufactures a number of other sexual performance supplements for both men and women.
The site that showcases the brand is not overly professional in tone or appearance, although it does contain a decent amount of information about the formula and particularly how it works to benefit Erectile Dysfunction (including a diagram of the three major penile chambers affected by the condition). There is a big emphasis on the ordering process whereby the product can be purchased safely and securely for a variety of different package options. The pricing is a little confusing, as one bottle can be bought for $59.95, although the auto-shipping information states the monthly charge is $89.95. Also, contact details regarding the company are limited to an e-mail address and toll-free phone number.
Herbal Vivid Product Details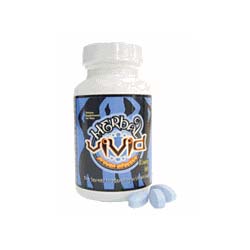 The main ingredients included in the formula for Herbal Vivid are all commonly found in similar brands and include Yohimbe Bark, L-Arginine, Cola seed, Tribulus, Ginseng and Maca. The purpose of the product is to support blood flow to the genitals which produces a firmer, stronger and longer lasting erection. Other benefits of the product are an support in sexual confidence and more intense orgasm.
No side effects have been reported with the use of Herbal Vivid, although it may not be suitable for anyone with a history of high blood pressure.
Good About Herbal Vivid
Herbal Vivid is offered for a free 10-day trial
No side effects should occur
A free strengthening and stretching exercise book is included with the purchase
A 100% money back guarantee is offered
The formula contains proven male virility ingredients
Information is given on the problem of Erectile Dysfunction
Testimonials posted on the website receive free condoms
The product can be purchased securely and is shipped discreetly
Bad About Herbal Vivid
No details are given regarding the money back guarantee
The pricing information is confusing
Herbal Vivid must be used daily to maintain performance
No contact information is given for the manufacturer
The product is expensive
Herbal Vivid The Bottom Line
Although the product is advertised on TV, this does not particularly make it a credible brand, and the fact that manufacturer information is limited is worrying. In addition to this, there is a chance that once the free gift is ordered the customer may be locked into an auto-shipping program and charged a higher price every month than is stated. For all these reasons, despite the inclusion of some beneficial male enhancement ingredients, Herbal Vivid is unlikely to be a wise choice for the consumer.