Hexatest Overview
Hexatest by MuscleTech is a supplement for men that is claimed to be a scientifically engineered testosterone enhancer. Specifically, Hexatest's formula includes L-carnitine, a compound that has been clinically shown to effectively increase the testosterone receptor concentration in a user's body when taken at specific dosages for a period of just three weeks. Hexatest is sold online through various third-party retailers for about $20 per bottle. As such, Hexatest is considered to be a relatively affordable testosterone-supporter supplement. Most of the user reviews for Hexatest are positive.
Hexatest Product Details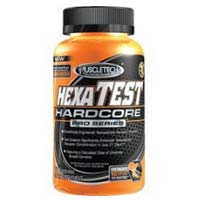 Hexatest is said to be an ideal product for body builders and men looking to just support their testosterone loaves in general. A complete list of ingredients is not featured online for Hexatest, but the main ingredient in it is revealed to be L-carnitine. As mentioned previously, L-carnitine is effective for increasing testosterone receptor sensitivity, according to research carried out at the University of Connecticut. Although a timeline for when results can be expected is not really provided online, based on the stated clinical evidence conducted on the main active ingredient in it, Hexatest should produce its promised testosterone-support benefits in about 21 days. Testosterone-support products are typically associated with improved muscle-gaining results while working out, as well as boosted libido.
Good About Hexatest
Hexatest has received mostly positive user reviews.
This product can be conveniently purchased online.
Hexatest is a relatively affordable product of its type.
The main ingredient in Hexatest has been clinically proven to have its claimed benefits.
Bad About Hexatest
While the main ingredient in Hexatest has been clinically proven, Hexatest itself may not have been the direct subject of any clinical studies.
A complete list of ingredients could not be located online for this product at the time of this review.
Hexatest The Bottom Line
Hexatest's key active ingredient certainly makes it sound like a promising supplement. However, Hexatest's complete list of ingredients is not listed online, and this is somewhat of a reason for concern. Without knowing the exact concentration of L-carnitine in the overall Hexatest formula, it is difficult to determine whether or not this compound should be able to provide its associated testosterone-supporting benefits. At the same time, however, Hexatest is still a relatively affordable supplement of its kind, and it is endorsed by many positive user reviews.
Below you'll find the most effective male enhancement products on the market, we determine these products based on 4 key factors : Active ingredients, ability to support sexual stamina, enhance arousal & improved sexual desire, backed by clinical studies. Ultimately, we determined the bottom-line value of each product.