Reading Time:
5
minutes
Overview Of Ejaculation
The sex life is one of the most important aspects that determine your quality of life. Every person wants to have a great sex life, but unfortunately, not all of the people have a great sex life due to various reasons. One of the major reasons for a miserable sex life is a Premature Ejaculation, which does not allow men to hold ejaculation and last longer in the bed with their partner, leading to a miserable sexual experience.
According to the study, the premature ejaculation is such a common disorder[1] that around one out of three men is likely to experience premature ejaculation at some point in time in their life.
A miserable sexual experience leads to a lower frequency of sex among couples, and the study shows that the low sex frequency[2] is one of the most common causes of divorce.
It's absolutely crucial to do everything you can to improve your sex life.
What Can Be Done To Hold Ejaculation and Last Longer In The Bed?
The topic of "sex" is a very hot topic on the internet, and you will find many people promoting plenty of products on the internet, promising to drastically improve your sex life.
Advertisement
*All individuals are unique. Your results can and will vary.
We cannot say all of the products that promise miraculous change in your sex life are fake products, but there is a good chance that most of them are promoting such products, just to earn some cash.
In this section of this article, we will provide you with 7 simple ways to hold ejaculation, and most of them are natural ways to manage your premature ejaculation.
Here are some of the tips that can help you last longer in the bed with your partner.
1. Masturbate Before You Actually Have Sex
It's not a good idea to have a sex directly without masturbating at first. There is a greater chance of you not being able to last longer in the bed with your partner if you go to your bed without masturbating.
What you can do is you can masturbate before an hour or so before actually having sexual intercourse with your partner.
Advertisement
*All individuals are unique. Your results can and will vary.
Masturbating before sex makes it harder for men to ejaculate quickly, which allows you to spend some quality time with your partner. While you're in bed, you can slowly increase your arousal with kisses or some other sexual activities before you start having sex.
2. Benefit From Men' Refractory Period
Most of the people have a misconception that sexual intercourse is all about a single session, which is not true. There is no general rule for that.
You can still have sexual intercourse with your partner, even after you ejaculate. It does not mean having a sexual intercourse right after you ejaculate. You can wait for some minutes and then continue with your sexual activities.
Men feel less sensitivity after a first ejaculation, and it also takes a long time for men to ejaculate on the second time in comparison to the first ejaculation.
3. Experiment With New Sex Positions
Trying something new can help you to last longer in the bed. When you keep on trying the same old sex position, your body will anticipate the position, and it leads to a quicker ejaculation.
If you and your partner keep on experimenting with new sex positions, it takes a long time for both of you to actually get used to the position.
4. Choose A Thicker Condom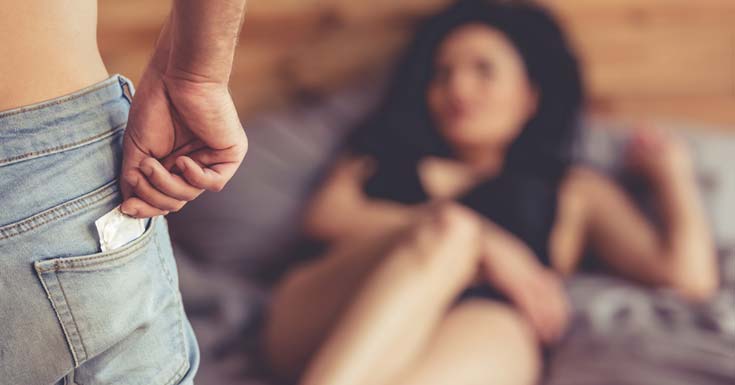 The use of a condom will not only help in the prevention of sexually transmitted diseases, but it can also help you last longer in the bed with your partner. When you go out to purchase a condom, you will find varieties of a condom at the store. Always purchase a thicker condom manufactured by a renowned manufacturer.
The thicker condoms, which are made up of extra-thick rubbers act as a slip-on desensitizer. This helps in delaying, hence helps to hold ejaculation. Some of the popular condom manufacturers are Durex and Trojan.
5. Kegel Exercises
Among all the varieties of exercises, Kegel exercises are known to be the best type of exercise to enhance your sexual health.
You should add Kegel exercises to your fitness routine, as it will help you to strengthen your pelvic floor muscles, which helps men to control his orgasm spasms. These exercises can help men of any age-group.
People also search for >>
There was a study to examine the impact of Kegel exercises on the patients suffering from premature ejaculation.
After adding Kegel exercises to their daily routine, the patients' condition was tested at 6 months follow up. Most of the patients experienced improvement in their condition after 6 months of pelvic floor exercises.
6. Squeeze Technique
The squeeze technique is yet another simple way to hold ejaculation and delay it. When you feel that you are about to ejaculate, ask your partner to squeeze on the base of your penis.
You should apply firm pressure directed on the urethra, the tube found on the underside of men' penis. You can either apply the pressure using your hand or a cock ring. It will temporarily stop men from ejaculating.
The squeeze technique ward off the sexual tension for some moment, as it helps to push blood out of your penis. Ask your partner to cooperate with you to last longer in the bed.
7. Medications

In some cases, you may be required to use some prescriptive drugs if premature ejaculation is seriously ruining your sex life.
There are various prescriptions available for you; however, you should ask a doctor before using any one of them. You can try over-the-counter supplements, desensitizers, and other prescription drugs to help you last longer in the bed.
You should also search for the credible online reviews, or ask someone who has tried the supplements before consuming them. As there are plenty of products that may produce no results for you.
Also See: Why Men need to Ejaculate? Importance of Ejaculation
Conclusion
Having a great sex life means drastically improving your overall quality of life. There are plenty of benefits of having a sex. They have a better heart health, lower blood pressure, improved immunity, reduced stress, and more.
Furthermore, you will have a better marital relationship with your partner, and there is a very less chance of divorce as well. The study also shows that the people with an active sex life are more likely to be successful in their career.
What more can you expect besides a successful professional life and a marvelous health condition?
Trying out these 7 tips will definitely help you in lasting out a bit more in the bed with your partner than before.
After you are able to last longer in the bed with your partner, you can further spice your sex life by experimenting with various poses, which you were not able to experiment when you were not able to last longer in the bed.
However, there are cases where the men have the problem of serious premature ejaculation. If you still struggle to improve your sex life, even after trying out all the natural solutions. Then it's better for you to consult a doctor, as you can get some valuable suggestions from them on how to solve your problem.
Reference:
http://www.mayoclinic.org/diseases-conditions/premature-ejaculation/home/ovc-20264121
http://paa2007.princeton.edu/papers/71772
Feature Image:shutterstock.com
In-Post Image: shutterstock.com, huffingtonpost.co.uk