If you have a ladylove and would want to give her the amazing orgasms, there are a lot of things you both can do so that she gets just that. A lot of women love orgasms not just because it leaves them feeling fresh and young again but also because it gives them an afterglow that no amount of makeup can rival. If you want to know how to give her the best orgasm of her life, read on to learn about the best ways to go about it.
Foreplay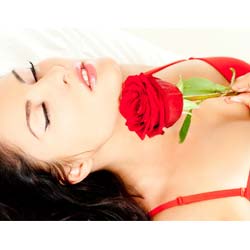 No matter how much you'd love to go about the business straight away, nothing beats a slow, seductive route for most women. Men tend to get aroused easily and reach climax faster than women. If you don't think that you'd last as long as your ladylove, you could always try taking male enhancement supplements or brewing your own male elixir to prolong your lovemaking sessions enough to completely satisfy her.
Try ginger tea and chili peppers to help enhance your mood. Chocolate are not only for women but men as well. Try eating dark chocolate that are low in sugar before you both head for the bedroom. Another way to make sure that you both last long in bed is to do it on a regular basis. Regular sex is not only healthy (it can even prevent depression!); it can also ensure that you don't climax too quickly at the same time. This will considerably improve your chances of giving her the best orgasm of her life.
Switch it up!
Although the slow and steady route is the tried and tested route for sexual pleasure, a lot of women get turned on with rough and ready quickies every now and then. So if you want to give her the best orgasm of her life, be consistent and then do something incredibly different so that she'll be surprised and at the same time, excited and aroused. she will thank you for it and she'll probably do something for you in return.
Love Her Lips
A lot of women have problems down there. Although some women are turned on already, it's as if her body signals that her lady bits are not yet ready. This is one of the main reasons why she can't orgasm or her orgasms are not the rock-your-world type. If you want, you can give her lady bits a bit of loving before you enter. Kiss her where it counts! And don't forget to indulge in a good quality lubricant so that she won't have problems achieving orgasms.
Last But Most Important Tip
Give her the best orgasm of her life by giving her a truly sensual experience. Even if it's a normal Wednesday or just another Friday, why not go all out and start by lighting vanilla and rose candles, by taking out the special silk sheets, and buying a box of dark chocolate truffles. Buy her some nice new underwear or lingerie and let her try it out to see if it fits. Start the night by pouring a glass of champagne or two. Remember that your goal is to take your sexual encounter and give her the best orgasm of her life.