Instant Performer Overview
Instant Performer is a product that compares itself to Viagra in that it helps men achieve fast, powerful and long lasting erections. Whether a man suffers from erectile dysfunction or not, most men can from time to time experience trouble achieving an erection which could simply be due to illness, nervousness or alcohol. Instant Performer comes in the form of a topical oil that is applied to the penis before sexual activity and is said to work in as little as 40 seconds.
The official Instant Performer website is very informative but unfortunately is written in a very unprofessional and gimmicky manner which detracts from the reputation of the brand. However, the manufacturer does supply several customer testimonials, additional erectile and sexual health articles plus a secure ordering page. Instant Performer can be bought at a trial size, one month supply for $48.45 and, like all orders, this comes with free online health access. Larger orders also have other free bonuses such as Maximum pills and DVD. It must be noted that the 180-day money back guarantee does not apply to the trial and extended trial size orders.
Instant Performer Product Description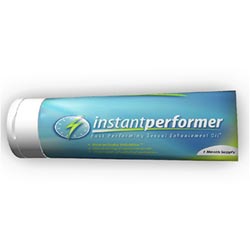 The Instant Performer formula is all-natural and the product is available without a Drug. It contains blood flow enhancing ingredients, specifically L-Ariginine, a commonly used erection supporting substance that supports the production of Nitric Oxide. Also in the blend is Vitamin C, described here as a sex nutrient, Pomegranate, which is said to be 'natures Viagra', The libido-enhancing Horny Goat Weed, anti-oxidant Hawthorn berry plus Aloe Vera which ensures a smooth application.
While the formula claims to work within seconds, no clinical proof is shown in the form of scientific studies, although the product does use transdermal technology to ensure the ingredients are delivered to the targeted areas efficiently.
Good About Instant Performer
Free bonus gifts are available
There is a money back guarantee on larger orders
The product is fast acting
The formula contains L-Arginine
The website is informative
Customer testimonials are shown
Bad About Instant Performer
No clinical studies are shown
The money back guarantee is limited to larger orders
The full ingredient list is not provided
Instant performer is expensive
No manufacturer information is shown
Instant PerformerThe Bottom Line
Although Instant Performer seems to contain many of the right ingredients to aid in the erection process, it is much more costly than similar brands. How powerful it would be is hard to judge given that the amounts of the ingredients are not disclosed and no clinical studies are shown. While it is appreciated that the one month 'trial' pack is offered, it is still very expensive and not even covered by the money back guarantee.