Irexis Overview
Irexis is, according to the official website, is the # 1 male enhancement pill and claims to be better than all the rest on the market, simply because, they say, it works and the others don't. However, despite making such bold statements, the company does not show any proof of this either in medical professional testimonials or clinical studies.
The information for Irexis is very straightforward and easily navigated. The headline on the site promises that the product will give a man a 'Bigger, Harder, Stronger and Longer' erection and as well as doing this, will also help the condition of Premature Ejaculation by balancing the male hormones.
Irexis has a 100% money back guarantee, but unfortunately no details are provided regarding the terms of this offer. The product, which is manufactured by Lab 88, is produced in clean, FDA approved conditions and is shipped discreetly for privacy. Additionally, Irexis can be purchased securely from the company at a cost of $49.99 for a one month supply, an average cost for this type of supplement. It is more economical to purchase in bulk though, with 10 bottles costing just $249.99 (5 bottles plus 5 for free).
Irexis Product Details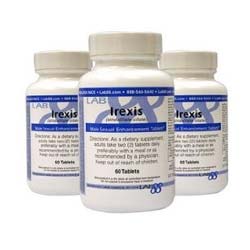 The full ingredient list is provided for Irexis and the main key ingredients in the all-natural blend are detailed and accompanied by pictures. The formula contains many standard substances often used in this type of supplement, which include the Brazilian aphrodisiac Catuaba Bark, nourishing tonic Muira Puama, Male testosterone enhancer Tribulus and Yohimbe Bark, a somewhat controversial herb that is known as 'natural Viagra'. Also included in the mix are Ginseng, Oyster extract (making the product unsuitable for those with seafood allergies), Pumpkin Seed and Zinc.
The dose for Irexis is 2 capsules per day, and the product should not be used by anyone with a history of high blood pressure or stroke.
Good About Irexis
The Irexis website is informative
The full ingredient list is shown
Key ingredients are explained in detail
The product is manufactured in the U.S.A.
Irexis helps treat both Premature Ejaculation and Erectile Dysfunction
The product is 100% guaranteed
Discounts are offered on bulk orders
Bad About Irexis
No terms of the refund are provided
No clinical studies are shown
The manufacturer does not provide contact information
The website is exaggerated in tone
Yohimbe may cause health problems in some users
Irexis The Bottom Line
Irexis is not the most expensive brand on the market, but most consumers would prefer to see evidence of positive results before purchasing. It is appreciated that the product is mailed discreetly, and comes with a money back guarantee, but it would be advised to get full details of this offer before ordering the product.