Jes Extender Overview
Male sexual support products usually fall into two categories – oral remedies or medical devices. The Jes Extender falls into the latter category and is named after the inventor of the product, Jes Bech Muller. The Jes Extender is manufactured by the Danish company Danalife and, judging from the information provided on the company website, is very popular, claiming to have worked for over 250,000 customers worldwide. It is true that the website does provide a large amount of information to back up these claims and informs the prospective customer about the device, how it works and what to expect. Features include Doctor's endorsements and customer testimonials, manufacturer background information and contact details, related health articles and an explanation of how the device works.
Jes Extender is available in a number of different qualities, ranging from the standard 'light' product which costs $249.00 to the most expensive Platinum edition which is $1,399.00. All products have a warranty and customers are offered a 200% money back guarantee providing that they have followed the training program and used the device for at least 1000 hours.
Jes Extender Product Details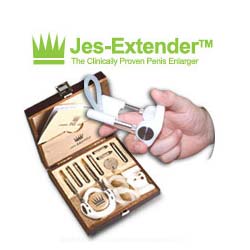 Jes Extender is designed to increase the length and girth of the penis by stretching it gently overtime. The practice of lengthening body parts through this technique has long been used in many cultures and there is some evidence to show that it can produce results. The Jes Extender is said to be safe to use and not uncomfortable although some men may be uneasy with the idea of attaching such a device to their penis in this way. In addition to the extending effect, the Jes Extender is said to help with Peyronie's Disease, a connective tissue disorder.
Good About Jes Extender
Jes Extender is safe to use
There is a 200% money back guarantee
Customer testimonials are provided
The manufacturer is well-established
All devices have a warranty
Jes Extender is doctor endorsed
The website is informative
Bad About Jes Extender
Jes Extender is very expensive
The money back guarantee is only honored under strict conditions
Some users may find the device uncomfortable
It is not convenient to use
Jes Extender The Bottom Line
This type of product has always been thought of as a novelty despite the fact that there is evidence to show that it works to a certain extent. However, the Jes Extender is obviously not as convenient as would be taking an oral capsule to help advance the male penis size, and may be somewhat cumbersome to wear.
Where To Find It?
For more details, please go Official WebSite