Kong Black Voodoo Overview
The first impression of Kong Black Voodoo, a strong male enhancement product, is that it is more of a 'gimmick' sexual aid rather than serious health supplement. The website for the brand, which also features the company's main product Kong Voodoo, is very detailed and contains many features, not all of them related to the actual products. For example, there are 'Kong Funnies', 'Kong Models', and it seems to be inviting their customers to become involved in the Kong 'lifestyle'. The brand has been featured in several media publications which are also linked to on the Kong website.
Customer testimonials are offered for the Kong brand, both original and 'Black Voodoo' formulas, and there is also a general FAQ section that addresses questions regarding the manufacturer, the ingredients used and the ordering process. The product can be purchased from the site, and the manufacturer offers several different packages and daily specials. While delivery is 100% guaranteed, there are no money-back guarantees or free samples available.
Kong Black Voodoo Product Details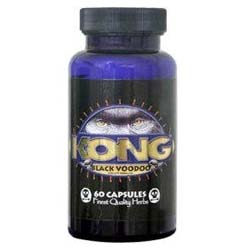 The product label is shown for Kong Black Voodoo, and all the ingredients are listed with the amounts contained in the formula. The key ingredients, which are mainly sourced from South American botanicals, are explained well, and the overall effect of the product is to enhance the male erection, support the libido and even aid in penis growth. Detailed diagrams are shown to further explain the physical effects on the genitals, but no proof of Black Voodoo Kong's results are provided in the form of clinical studies.
The main ingredients in the blend are all commonly used in similar herbal preparations, and include Muira Puama, Damiana Leaf, Maca, L-Arginine, Horny Goat Weed, Saw Palmetto, Catuaba Extract and Cuscotta Extract. Kong Black Voodoo is designed to be taken in conjunction with the daily, original Kong formula, to give the customer an added support when required.
Good About Kong Black Voodoo
The Kong website has interesting features and health article links
Daily special deals are offered
Discounts are given on certain package deals
Kong Black Voodoo is stronger than the original Kong formula
The product can be purchased securely from the manufacturer
Full company contact details are provided
The product label is shown
All –natural ingredients are used
Bad About Kong Black Voodoo
The product has a 'gimmicky' image
No money back guarantees are given
The website uses over-exaggerated expressions
No specific FAQ's are offered for Kong Black Voodoo
The product is expensive
Kong Black Voodoo The Bottom Line
Although Kong Black Voodoo uses ingredients commonly found in similar brands, it is obviously trying to attract men by using a fun, risqué image. There is nothing wrong with this, but it would also be good to see some clear clinical evidence that the product works before spending $49.99 on one bottle, especially when it is to be used in addition to the regular Kong formula.