Talking about libido can be an embarrassing and uncomfortable thing for men. However, if you want to get information on why your libido isn't the same as it used to be, or how you can make your libido stronger, you'll have to have that conversation at some point. Talk to your doctor about libido. For men who have little to no libido anymore, especially as they get older, there is help. Low testosterone can cause a man's libido to drop, and can also make him irritable and tired. That's not enjoyable to him or his partner, but it's possible to correct it.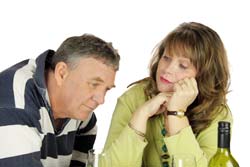 If you have low testosterone, that can certainly be a big problem for libido. For men who are facing a low T diagnosis, their doctors can work with them to either get more testosterone or find other ways to balance their hormones so that they don't have to simply suffer. In addition to their lowered libido, men with low T may also face irritability, anxiousness, weight gain, depression, fatigue, and a loss of muscle mass. That doesn't have to be your fate, however, if you want to avoid it. Treatment options are available to any man with low libido.
There are other conditions that can cause problems with libido. For men who have normal testosterone but are not very interested in sexual activity, there may be an underlying medical condition that is causing the difficulty. That's not always the case, but it's certainly something worth checking out. Even if your doctor isn't sure about what tests to consider, start with the basics and continue to look for answers. Understand, however, that some men simply have a lower libido than other men. With that being the case, you may just be one of the men who have a lower libido – unless your libido has decreased either suddenly or over time.
If you're having trouble with your libido, you should also talk to your partner. It may not be something you really want to discuss, but it's important. She may think that she's doing something wrong, when it's just your lower libido. For men who are in relationships where they have been together with their partner for a long time this may be an easier conversation than it is for men who are in newer relationships. It's vital that you have that conversation, though, so you don't end up with a strained relationship because your partner doesn't understand your lack of desire.