Longz Overview
Longz is a product that is made exclusively for men who want to support their sexual performance. It is an 'As Seen on TV' marketed product and is sold on a number of independent internet retail sites.
The manufacturer of Longz makes some big claims for their product, stating that not only will it support the length of the penis, but also help job performance, add mental clarity, support energy and even treat prostate cancer. Unfortunately there is no evidence of this being the case, as no clinical studies seem to have been performed on the brand.
While the retailer of this product may have their own refund policy, there is no satisfaction guarantee given from the makers of Longz and no contact details for them either. Although the label of Longz states that it is 'Doctor approved', no testimonials are shown and there is no FAQ section to answer customers' questions.
Longz Product Details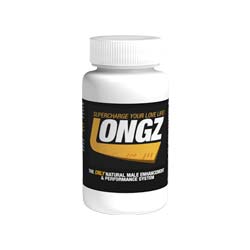 Longz contains a lengthy list of all-natural, herbal ingredients which include some commonly-used substances often found in male enhancement products such as Epimedium, Guarana, Maca, Oat straw, L-Arginine, Tribulus and Astragalus. It also contains Oyster meat which is thought to be a powerful aphrodisiac. Unlike some brands, Longz does not contain Yohimbe Bark, another aphrodisiac which, while beneficial, can have adverse health effects.
No side effects have been reported for Longz which is to be taken as a daily supplement at one capsule per day. At this dose, it is said that consumers will see an support in penis size within days and can achieve up to 4" in added length.
Good About Longz
Longz contains the beneficial ingredient L-Arginine
All ingredients are listed
Only one capsule per day is required
The product has an accompanying bonus DVD with enhancing exercises
Bad About Longz
The cost of Longz is unknown
No satisfaction guarantee is offered
No clinical studies are shown
The website contains no FAQ section or testimonials
The manufacturer makes some exaggerated health claims
There is no contact information given for the manufacturer
No free samples are offered
Longz The Bottom Line
At the time of writing, it was impossible to find information about the cost of this product, and many retailers are no longer carrying it. This, plus the fact that no evidence that it actually works is available, and that there is a lack of independent reviews, means that Longz is one male enhancement product that should not be considered