Magnum Extender Overview
The Magnum company makes a number of products that are all designed to help advance sexual pleasure for both men and women. Their penis extender is a device that men attach to their penis with the purpose of lengthening it overtime. The product is sold on the Magnum website, as are the full range of products, which is limited in information but overall professional in appearance. The website includes customer testimonials for the extender, a general FAQ section and secure shopping page. The product is shipped discreetly and sold at a cost of approximately $70.00 (all prices are in British pounds). The manufacturer does state that the product has a money back guarantee, but gives no further details of the terms.
Magnum Extender Product Details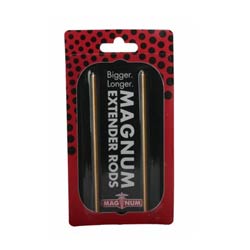 Customers are given comprehensive instructions on how to use the Magnum Extender, both in diagrams and video. It is said that once in position, it can be worn under clothes, is comfortable and safe to use. The basic purpose of the extender is to gently stretch the penis, allowing new cells to grow which results in a permanent growth. There are no actual details showing clinical proof of this, but the manufacturer states that good results are seen within 6 months of use. There are no details regarding what the apparatus is made from although it is lightweight. Additional extender rods are also available.
Good About Magnum Extender
The product is lightweight
Customer testimonials are shown
Magnum Extender can be worn under clothing
Full instructions are provided
Bad About Magnum Extender
No clinical evidence of successful results are shown
There are no details of the money back guarantee
The device may be uncomfortable or cumbersome
Magnum Extender The Bottom Line
Because many men wish to have a larger penis, there are many products of this type on the market, most of them more expensive than the Magnum Extender. However, the fact that there is no clear money back guarantee is a problem and, despite stating that it is pain-free, a lot of men would not wish to wear such a device for any length of time.