Male Response Overview
The male enhancement supplement Male Response is manufactured by Source Naturals, a reputable company that provides a good website showcasing all their products. Source Naturals is based in California and their site gives full contact information, plus sections for additional health-related articles.
Because Source Naturals does not sell their products directly, there is no information regarding money back guarantees on any of their products, including Male Response , although independent retailers will likely have their own policies. Links to online retailers and stores are provided by the manufacturer and they do suggest the retail price as being $15.50 for a one month supply (90 capsules).
While no customer testimonials are available on the Source Naturals site, several independent reviews can be found and the response to the product is generally positive.
Male Response Product Details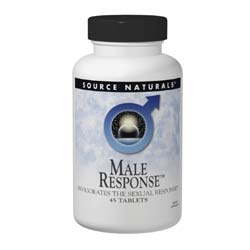 A good amount of ingredient information is provided for Male Response, which uses a Bio-Aligned formula to treat a number of male health-related conditions including sexual performance. All ingredients are listed for the product with their individual amounts and the formula addresses hormonal function, energy, circulation, the nervous system and the prostate gland. Many of the ingredients found in the formula are commonly used in this type of product and they include L-Arginine, an important substance that helps the dilation of the blood vessels for supported blood flow, Tribulus, a testosterone supporter, Yohimbe, a traditional aphrodisiac and Ginseng, vital for supported energy. Other ingredients in the formula are Saw Palmetto, Ginger, Vitamins B5 and 6, Maca, Sarsparillia and Selenium.
The dosage recommendation for Male Response is up to 3 capsules per day, on a cycle of 10 weeks on, 1 week off. The supplement must be taken consistently to maintain performance.
Good About Male Response
All ingredients are natural
The product addresses a number of male health issues
Male Response is affordable
The product is sold in retail stores
Male Response has received good independent reviews
The formula contains L-Arginine
Full company contact information is given
Bad About Male Response
No FAQ section is featured on the Source Naturals site
No money back guarantee is offered
No clinical studies are shown
Male Response contains the controversial ingredient Yohimbe
The product is not suitable for those with high blood pressure or heart disease
Male Response The Bottom Line
Male Response is a daily supplement that will benefit overall health rather than being specifically for supporting sexual drive and performance, although with the inclusion of L-Arginine it will likely have a positive effect on that too. For a product that does contain such a good amount of ingredients, Male Response is very reasonably priced, and, providing it is okay for the consumer to take Yohimbe, there would be no harm in at least trying this particular supplement.
Below you'll find the most effective male enhancement products on the market, we determine these products based on 4 key factors : Active ingredients, ability to support sexual stamina, enhance arousal & improved sexual desire, backed by clinical studies. Ultimately, we determined the bottom-line value of each product.