Man Plus Overview
Man Plus is a product that is designed to reinvigorate the male sex drive, support stamina and improve sexual performance. This brand is manufactured by a British company called Vortex Health, who also produce a number of other health and self-improvement goods. The company have an eye-catching but professional looking website that showcases their different brands and a good amount of information is provided about Man Plus for prospective customers.
Included on the site is a section listing all the ingredients in the formula plus a separate page that explains the ingredients in more detail. The ordering and shopping section is secure, goods are shipped in plain, discreet packaging and returns are accepted within 14 days of receipt. No customer testimonials are shown though and the FAQ section only answers questions relating to the ordering process.
Man Plus Product Details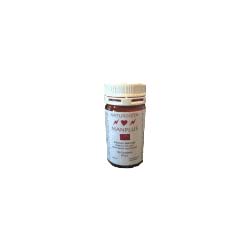 The ingredients in the Man Plus formula are a blend of all-natural herbs and botanicals that work synergistically to help revive a flagging libido, support circulation and blood flow to the genitals and generally improve energy levels. The ingredients listed are Damiana, Kola Nut, Muara Puama, Knotgrass, Summer Savory, Dog Rose, Spirulina, Green Tea, Ginger, Cinnamon, Angelica, Gentian, Guarana and Ginseng.
The formula is a good mix of anti-oxidants, energy supporters and most importantly, traditional aphrodisiacs. Unfortunately, Man Plus does not contain L-Arginine, an aid in the release of Nitric Oxide, which widens the blood vessels supporting blood flow, or Tribulus which is related to the male hormone Testosterone.
The Man Plus recommended dose is 2 capsules to be taken twice a day, in the morning and evening, although this can be reduced overtime if desired.
Good About Man Plus
Man Plus contains aphrodisiac ingredients
The website is easy to navigate
The full contact details for Vortex Health are provided
The product is suitable for vegetarians
Ingredients are listed and explained
The ordering process is secure
Tests have been performed with male subjects
Man Plus is affordable, costing $25.00 per bottle
Bad About Man Plus
The return policy is limited
No customer testimonials are shown
Man Plus does not contain L-Arginine
No ingredient amounts are provided
Man Plus is not available in North American retail stores
Man Plus The Bottom Line
Man Plus appears to be a reasonably reputable brand, although it would be even better if it contained L-Arginine or Tribulus and unfortunately most of the aphrodisiac qualities of the ingredients are based on traditional lore rather than clinical studies. It does not make much sense to have this product shipped from the U.K. when similar male enhancement products are easily available in North America.
Below you'll find the most effective male enhancement products on the market, we determine these products based on 4 key factors : Active ingredients, ability to support sexual stamina, enhance arousal & improved sexual desire, backed by clinical studies. Ultimately, we determined the bottom-line value of each product.