Marapuama is also more widely known as Muira Puama and sometimes by the term 'potency wood' and it is included in many male enhancement products. The plant extract, which is grown in the Amazon rainforest, has long been used for its energizing effect and overall benefit as a health tonic. However, it is being used more and more as part of sexual performance formulas, especially those that address impotence and Erectile Dysfunction. In products such as these, it is often combined with other beneficial ingredients such as Catuaba, Suma and Damiana, and is said to be an alternative to Yohimbe, an extract that can sometimes cause adverse side effects.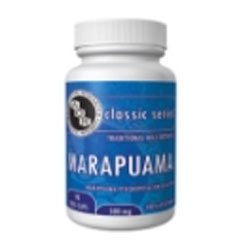 The main function of Marapuama is to affect the central nervous system, relieving stress and anxiety which are two of the major causes of erectile problems. It is also said to have aphrodisiacal effects, supporting sexual desire and the libido. While it is mainly used in men's products, it can also be helpful to female problems such as hot flashes etc. during menopause.
As with many of these natural male enhancement substances, the evidence to show that they work is largely anecdotal, and in the case of Marapuama , it has had very limited clinical testing. Because it is a natural stimulant it should certainly have an effect on the sexual performance and could support the flow of blood to the penile chamber which, in turn enables a powerful erection. However, the optimal dose of Marapuama is not known although the general recommendation is for 2-6grams per day. When purchasing any form of alternative medicine, the consumer should bear in mind that they product is not subject to FDA approval and the ingredients may not be top grade. It is vital to purchase from a reputable company and preferably one that offers risk-free trials.
Below you'll find the most effective male enhancement products on the market, we determine these products based on 4 key factors : Active ingredients, ability to support sexual stamina, enhance arousal & improved sexual desire, backed by clinical studies. Ultimately, we determined the bottom-line value of each product.