Maxidus Overview
This male enhancement product is presented on a very informative and user-friendly website. While it does contain most of the standard sections seen for this type of product, such as FAQ's and customer testimonials it also presents good ingredient information and a secure ordering section. Maxidus is sold in packets of 10 capsules and costs $39.95 per unit. The company offers 'value pack' deals which includes a free bottle of their Penis Oil product. They also sell a number of other sexual enhancement goods, which are all shown on the site.
The company that manufactures Maxidus offers a 100% lifetime guarantee on the product, but no further details are provided and the only way to contact them is via e-mail. Although no free samples are offered, there is a monthly 'Lucky Draw' whereby customers can enter to win a free pack of the Maxidus product.
Maxidus Product Details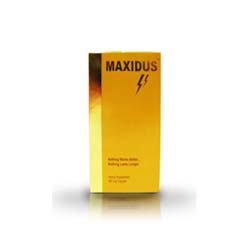 Maxidus contains 8 key ingredients that are listed on the site accompanied by good explanations of how they work. All traditionally used in Asian medicine, the ingredients in the formula help male sexual performance in a number of ways such as supporting blood flow to the genital area (vital for sustained, firmer erections), supporting levels of testosterone, relieving premature ejaculation (through mildly sedative substances), encouraging new tissue growth and enhancing the immune system with anti-oxidants. Included in this blend are Eurycoma Longfolia, Ginkgo Biloba, Epimedii, Ku Gua, Cistanches and Flos Catharmi. Clinical studies that were performed on Eurycoma Longfolia are shown and the results of consumer surveys conducted with the Maxidus brand are also provided.
For sexual performance, Maxidus should be taken approximately 40 minutes before activity at a dose of 2 capsules. Users can also support their energy any time of the day by taking an additional capsule, and the product can also be used by women.
Good About Maxidus
Maxidus contains traditional, herbal ingredients
Survey results are provided
The shipping of Maxidus is discreet
The ordering process from the website is secure
Customer testimonials are shown
Discounts and free gifts are provided with certain orders
All ingredients are well explained
Maxidus can also be used to support general energy levels
Bad About Maxidus
Maxidus is expensive, with each pack containing just 10 capsules
The product may not be suitable for anyone with blood pressure issues
Clinical tests are shown for only one ingredient
Details of the money back guarantee are not provided
The Bottom Line Maxidus
Because it is not clear what other ingredients are in Maxidus, it is not known how safe it is for all users, particularly anyone with allergies. The company does state that 17% of users may experience mild side effects such as flushing and warming sensations, but generally no other problems have been reported. Considering the ingredients listed, Maxidus would be a good product for raising energy levels, but similar products are available on the market at much more reasonable prices.