Maxipatch Overview
Unlike many male enhancement products that come in capsule form, the Maxipatch brand is, as the name suggests, a patch that is applied to the body. It delivers the ingredients into the blood stream via 'Trans-dermal' technology, much in the same way as a nico patch does. The manufacturer of Maxipatch claims that this allows a faster absorption of ingredients, resulting in the product taking effect much quicker than a capsule.
Maxipatch has an official website which is reasonably informative, although there are no customer testimonials or FAQ section. There is an explanation as to how Maxipatch works and a link to the ordering section. However, somewhat confusingly, the link leads to a brand with a different name despite the fact that it still appears to be Maxipatch. A one month supply of the patch costs $68.95, and there is a 6 month guarantee on all orders. In addition to this, each order is sent with a 'penis enhancement' exercise CD.
Maxipatch Product Description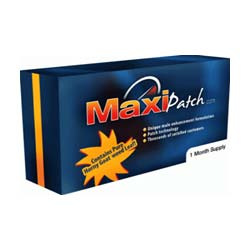 Ingredient information for Maxipatch is limited to details about the key ingredients only, although they are explained well. The main purpose of Maxipatch is to improve the quality of the male erection, making it bigger, stronger and easier to sustain. The all natural formula uses a combination of Tongkat Ali, Pomegranate, Guarana and Horny Goat Weed, to support the sex drive, help support blood flow to the penile chambers and support healthy levels of the male sex hormone Testosterone.
One patch is applied to the body when needed and should take effect within 30 mins. It is not known how long the effects last, but it can be worn up to 3 days.
Good About Maxipatch
The formula is all-natural
There is a 6 month money back guarantee
Maxipatch should not cause harmful side effects
Key ingredients are provided
Maxipatch is fast-acting
Bad About Maxipatch
The website information is limited
Manufacturer details are limited
Maxipatch is expensive
There are no clinical studies shown as proof
No customer testimonials are provided
Maxipatch the Bottom Line
There is no concrete evidence to show that a patch delivers any type of formula more effectively than a capsule, although there is no doubt that it would be more suitable for those with an aversion to swallowing pills. Wearing a patch may not be as convenient as taking an oral product, and, even though the actual Maxipatchformula may not cause side effects, the [patch may irritate some skin types. It would be a good idea if the company offered a free trail patch first before the consumer commits to buying their product.