What is Mr. Magic Male Enhancer?
Mr. Magic Male Enhancer a supplement manufactured by Glow Industries Inc. was purportedly made to boost sexual health in men and treat erectile dysfunction. Sexual health in men is important because low sexual potency carries with it a lot of disadvantages including anxiety, stress and embarrassment.
The manufacturers of this product made it to help counter erectile dysfunction that exists in men because of low testosterone levels and health conditions such as diabetes and hypertension. It is composed of natural ingredients which has some sexual health benefits.
They also claim that this product helps to improve the production nitric oxide and testosterone in the body thus helping to counter erectile dysfunction and sexual related problems.
However FDA has discovered that this product has some hidden ingredients that make this product unfit and unsuitable for health. They have therefore advised the manufacturers to recall their product from the market to prevent it from causing harm to people.
Mr. Magic Male Enhancer Claims & Features – What You Need To Know?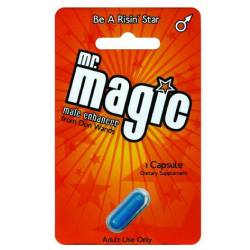 Mr. Magic Male Enhancer is manufactured by a US based company known as Glow Industries Inc. The manufacturer claims that this supplement is purely herbal in nature and that it contains garlic as its main male ingredient.
They also claim that they have used garlic in this product because it stimulates the production of nitric oxide which promotes blood circulation in the system. Improved blood circulation in the system improves erections and enables users have a strong hard and lengthened penis.
FDA however refuted these claims after they discovered the presence of hydroxythiohomosildenafil and sulfoaildenafil which adulterates this product while doing their lab analysis making this product unfit for health.
According to FDA, when these chemicals interact with nitrates which exists in some prescription drugs as nitroglycerin, it may cause unpleasant side effects such as lowering the blood pressure to very dangerous levels.
FDA further claims that it makes it unfit for people with diabetes, high cholesterol, high blood pressure and heart disease who normally consume drugs with nitrates.
It is said that because of the unpleasant effects that these hidden ingredients bring, FDA banned the use of this product and the manufacturer has since recalled the drugs from stores.
The manufacturer is also said to have removed this product from the official website in complying with FDA's directive making it unavailable online.
What are the Ingredients in Mr. Magic Male Enhancer?
The ingredients in this supplement are said to work at promoting nitric oxide production and treating erectile dysfunction. They include;
Garlic – It stimulates nitric oxide production thus improving blood flow to the penile tissues resulting to increased erections.
Hydroxythiohomosildenafil – Boosts sexual health
Sulfoaildenafil – It is said to combat erectile dysfunction
Mr. Magic Male Enhancer – How Does It Work?
This supplement contains garlic as its main ingredient. The manufacturers say that garlic promotes the production of nitric oxide. Nitric oxide is a vasodilator that is known to expand blood vessels.
An expanded blood vessel improves blood circulation throughout the body. With increased blood flow, the penile tissues are nourished with blood and the penis length increases.
It also ensures that the user gets strong and hard erections which make sexual life fulfilling and pleasurable.
What are the Benefits of Mr. Magic Male Enhancer?
It combats erectile dysfunction
May boost nitric oxide production which improves blood flow
It may increase the length of the penis
What are the Drawbacks of Mr. Magic Male Enhancer?
It is no longer available online or in retail stores because the manufacturer recalled it and pulled it down from their website.
It may cause negative effects to people on prescription drugs with nitrates
How To Use Mr. Magic Male Enhancer?
No instructions are currently available online on how to use this product as it has been outlawed by FDA prompting its manufacturer to pull it down from their official website.
Mr. Magic Male Enhancer Review – The Bottom Line
Mr. Magic Male Enhancer is a male enhancement supplement that was designed to combat erectile dysfunction.
It contains garlic as its main natural ingredient. The manufacturer claims that garlic is vital in stimulating nitric oxide production.
Increased levels of nitric oxide in the blood boost the expansion of blood vessels enabling blood to flow well thereby improving sexual health.
However, this product has been banned and is no longer found in the official website after FDA discovered that it contains two dangerous chemicals that endanger the lives of consumers.
With countless male enhancement supplements available on the market today it seems impossible to find "the right one." Sexual performance declines naturally as men age, which may contribute to feelings of inadequacy or embarrassment. Male enhancement supplements should be based on four key factors: active ingredients, ability to support sexual stamina, enhance arousal, improved* sexual desire and backed by clinical studies.
Below you'll find some of the most effective male enhancement supplements on the market today, in our opinion.
Our Top Male Enhancement Supplements
Virectin
Ability to Support Harder and Firm Erections
Ability to Support Sexual Stamina and Energy
Ability to Enhance Arousal and Improved Sexual Desire
Overall Quality of Ingredients
VigRX Plus
Ability to Support Harder and Firm Erections
Ability to Support Sexual Stamina and Energy
Ability to Enhance Arousal and Improved Sexual Desire
Overall Quality of Ingredients
Barbarian XL
Ability to Support Harder and Firm Erections
Ability to Support Sexual Stamina and Energy
Ability to Enhance Arousal and Improved Sexual Desire
Overall Quality of Ingredients
Extenze
Ability to Support Harder and Firm Erections
Ability to Support Sexual Stamina and Energy
Ability to Enhance Arousal and Improved Sexual Desire
Overall Quality of Ingredients