Myogenix AfterShock is a supplement that is basically formulated to help people grow their muscle mass safely and effectively. It is formulated in such a way that it targets each and every aspect of muscle growth, speed, strength, and recovery. It also helps to enhance an athlete's overall performance for the better. It is a supplement that has taken all important factors that athletes need take into account. The supplement works on the principle that ingestion of proteins immediately after workouts usually stimulates intense muscle growth (anabolism) while at the same time reducing cortisol. The supplement is therefore designed to take advantage of your post-workout anabolic window to give you the much needed muscle growth.
A bottle of Myogenix AfterShock is priced at its official website at the cost of $39.99 although if you buy them in bulk you are given discounts.
Manufacturer Information and its Claims about Myogenix AfterShock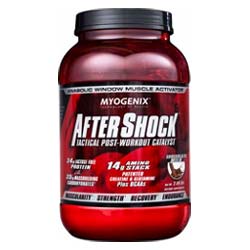 AfterShock is made by Myogenix which is a renowned supplements company in the USA. The company boasts of a wide range of high quality sports and health supplements. They claim that AfterShock is a great post workout muscle building supplement that is highly effective and healthy too. According to them, the best time that muscles can build rapidly in the body is the first 30 minutes after intense workout and that is the time that an athlete should take AfterShock for impressive results. They say that AfterShock has got the right and proper nutrients that are critical for muscle growth, recovery and also glycogen replenishment.
How Does Myogenix AfterShock Work?
Just as mentioned above that the supplement has got a unique blend of nutrients that are necessary for muscle growth. You are supposed to take the supplement within the first 30 minutes following an intense workout or exercise, a period referred to as the anabolic window when the muscles are primed to grow tremendously with the introduction of protein plus carbs.
Myogenix AfterShock Ingredients
Anabolic whey protein – Is an ingredient that has been used in a number of muscle building products, it has been used in Myogenix AfterShock to help bring about muscle growth.
Mass building carbohydrates – These have been used also to help with recovery and also to build muscle mass.
Amino stack – Amino acids help with the regulation of the metabolic process in the body and thus important for a healthy body. They have been added in the supplement to help with muscle growth and also to help shed harmful fats.
Glucosamine – Is an ingredient that is derived from animal bones, shellfish, bone marrow and also fungi with a number of health benefits. It has been used in the supplement due to its property in building cartilage.
Alpha Lipoic acid, Vitamin C & B – lipoic acid is known to help in the regeneration of vitamin C, it is also said that it teams with vitamin B to bring about energy production in the body.
Myogenix AfterShock Benefits
Is made from natural ingredients that are safe and effective.
Works in a short period of time.
Helps you to build lean muscle mass healthily.
Gives you energy and stamina.
Is made by a reputable company.
Myogenix AfterShock Drawbacks
Is sold exclusively online.
Is a little expensive compared to other products.
Myogenix AfterShock Dosage Instructions
It is recommended that you mix one serving of the supplement 80g with about 12 to 16 oz of water and drink immediately after exercising.
Myogenix AfterShock Precautions
Consult your doctor before using if you are suffering from any medical condition or if you are on prescription drugs.
Not to be used by pregnant or lactating mothers.
To be used by adults only.
To kept away from direct sunlight.
To be kept out of the reach of children.
Its ingredients are derived from milk and soy.
Myogenix AfterShock Side Effects
There have been no reports by users of any side effects from the use of Myogenix AfterShock.
Does It React With Other Medicines?
The manufacturer recommends that you consult your doctor before taking it if you are on other prescription drugs.
Final Verdict on Myogenix AfterShock
While most other muscle building supplements are usually taken before proceeding to workouts or exercises, aftershock is different. It is supposed to be taken in the first 30 minutes after workouts for muscle growth. The manufacturer claims that muscles are bound to grow tremendously after workouts if the right nutrients are introduced in the body during the anabolic window. AfterShock is said to have the vital ingredients that muscles need to grow in the 30 minutes anabolic window period following a workout.
With countless male enhancement supplements available on the market today it seems impossible to find "the right one." Sexual performance declines naturally as men age, which may contribute to feelings of inadequacy or embarrassment. Male enhancement supplements should be based on four key factors: active ingredients, ability to support sexual stamina, enhance arousal, improved* sexual desire and backed by clinical studies.
Below you'll find some of the most effective male enhancement supplements on the market today, in our opinion.
Our Top Male Enhancement Supplements
Ability to Support Harder and Firm Erections
Ability to Support Sexual Stamina and Energy
Ability to Enhance Arousal and Improved Sexual Desire
Overall Quality of Ingredients
Testomax200
Ability to Support Harder and Firm Erections
Ability to Support Sexual Stamina and Energy
Ability to Enhance Arousal and Improved Sexual Desire
Overall Quality of Ingredients
Male Extra
Ability to Support Harder and Firm Erections
Ability to Support Sexual Stamina and Energy
Ability to Enhance Arousal and Improved Sexual Desire
Overall Quality of Ingredients