Neophase Overview
Neophase is marketed as an all-natural sexual male enhancer that uses tried-and-tested ingredients commonly used in Chinese medicine to support the amount of sperm production and provide a heightened sense of sexual pleasure. It hopes to help men battling erectile dysfunction and impotency.
There is a lot of confusion in identifying the manufacturer of Neophase, since there seems to be no official website dedicated to the product as of late. The companies SperMax and Vigor Nutriceutecal Healthcare Inc. have both been credited as the manufacturer on separate product reviews available on the web.
Neophase Product Details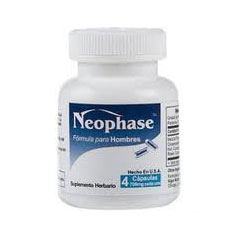 Most of the product reviews available online for Neophase have an ingredients list that include Ginseng, Cordyceps Sinensis, Epimedium Macranthum, Cistanche Salsa, Hairvein Angrimony, Ba-jo-tan, Lycium Chinesis, Cuscuta Chenesis, Sika Deer Antler, Licorice Root, Rhodiola Creplata, Snowlotus, and Chiese Angelica. Most of them are based on Chinese medicine, so verifying their uses without the official website will be a hard undertaking. Though the limited number of product pages that feature Neophase brag about it having the ability to address erectile dysfunction minus the usual side effects of most Drug Drugs, a disclaimer is often written for people suffering from high blood pressure, heart diseases or those who are currently on medication to consult a doctor before using Neophase.
Each box of Neophase costs $29.95 contains 4 700mg capsules that promise to show results in 30 minutes or less.
Good About Neophase
Claims to address impotency while providing sexual pleasure
Affordable, considering its intended dosage
Uses all-natural ingredients
Bad About Neophase
It is not FDA-approved
There is no official website
Manufacturer of Neophase is unclear
There are no clinical studies available for the product
There are no explanations available that describes each ingredient's use
No reviews written by actual customers
Neophase The Bottom Line
Clearly, precaution is highly advised when it comes to considering, buying, and using products like Neophase that claim to be made from all-natural ingredients without the appropriate literature explaining each one used. The severe lack of reliable product information makes Neophase a hard product to trust and take seriously. Unless you happened to be a seasoned Chinese medicine man who is gifted with knowledge of strangely named roots and plant extracts, the lack of an approval from the Food and Drug Administration should be warning enough. For those who still want to risk trying it despite this fact, be warned: some ingredients may have serious side effects that may yield results that are opposite to the ones that you wish to achieve. Consult a physician before taking Neophase, just to be safe.
Below you'll find the most effective male enhancement products on the market, we determine these products based on 4 key factors : Active ingredients, ability to support sexual stamina, enhance arousal & improved sexual desire, backed by clinical studies. Ultimately, we determined the bottom-line value of each product.