Nitrozyt Overview
Nitrozyt is a male performance supplement that is touted to give men maximum gains in both length and girth. Made from all natural ingredients, Nitrozyt is promoted through its official product website through which it can also be purchased. A money-back 90-day satisfaction guarantee covers all purchases of Nitrozyt that are conducted through this website. Nitrozyt is also endorsed by positive user reviews that are featured on this website as well. A partial list of ingredients appears to also be featured, but a fully disclosed nutritional facts label could not be located on the site. This supplement is claimed to cause absolutely no unwanted side effects.
Nitrozyt Product Details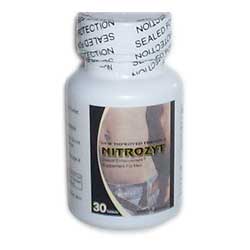 Nitrozyt's website indicates that its formula includes Tribulus terrestris, zinc, yerba mate, maca, L-arginine, and presumably other ingredients. All of the compounds used in Nitrozyt should be naturally occurring, as this supplement is promoted as being an "all natural" product. Nitrozyt is to be taken at the same time as a meal in order to deliver optimal results. The results of Nitrozyt are said to include the support of healthy levels of testosterone and dopamine; this should then result in boosted levels of sex hormones and firmer, harder erections on a regular basis. Increases in the actual length and girth of penile tissues are also promised for Nitrozyt users. The results of using Nitrozyt are promised to be noticeable within one to two weeks of starting to use it; however, individual results will vary (according to official product descriptions). A single bottle of Nitrozyt costs about $45 plus shipping charges, but bulk orders are offered at discounted rates.
Good About Nitrozyt
Some of the ingredients are listed online.
Nitrozyt can be directly purchased through its official product website.
Positive user reviews are featured online.
A timeline for when results can be expected is provided on the Nitrozyt website.
Purchases are backed by a satisfaction guarantee.
Bad About Nitrozyt
A full list of ingredients is not provided online.
Nitrozyt is relatively expensive.
Clinical studies conducted directly on Nitrozyt do not appear to have been performed.
Nitrozyt The Bottom Line
Despite its satisfaction guarantee, Nitrozyt is not an ideal male enhancement supplement. It is not supported by any clinical studies conducted directly on it, and its full list of ingredients is also not featured online. Additionally, the compounds that are mentioned don't differ greatly from those that are used in other cheaper products of the same kind as Nitrozyt, leaving consumers with little reason to choose Nitrozyt over its more affordable competitors.
Below you'll find the most effective male enhancement products on the market, we determine these products based on 4 key factors : Active ingredients, ability to support sexual stamina, enhance arousal & improved sexual desire, backed by clinical studies. Ultimately, we determined the bottom-line value of each product.