NOW Foods Prostate Support Overview
The prostate is a gland in many men that is often overlooked as a possible source to various problems in the body. The reason behind this analogy is the fact that this is a crucial point of the body and if not well addressed can bring various challenges in the body. Among the challenges associated with an enlarged prostate is urinary incontinence, frequent urination, incomplete emptying of the bladder and in some cases prostate cancer. To avert these challenges, men who are past the age of 50 are required to make use of enhancement products that help support the function of the prostate. Use of products based on natural products is a great way to ensure that the desired results are achieved without worry as to the side effects that may be posed by a product. One product that provide relief from such problems is NOW Foods Prostate Support.
This is a dietary supplement formulated to help support the health and function of the prostate gland. NOW Foods Prostate Support is formulated, manufactured and distributed by Now Foods. Now Foods is located in Bloomingdale, Illinois. This is a company which has been in the supplement business since 1968, having been founded by Elwood Richard and works to produce dietary supplements, natural foods as well as personal care products.
Claims and Features – What You Need To Know
According to the manufacturer, NOW Foods Prostate Support is specifically formulated for men who are past the age of 50. The manufacturer of this product claims to help boost the health of the prostate gland and prevent it from enlarging. The manufacturer also claims to help enhance the quality of men's life. It is also important to note that the manufacturer claims that this product only contains high-quality ingredients that help boost overall levels of testosterone in the body.
What Are The Ingredients In NOW Foods Prostate Support?
The main ingredients that make up this product include:
Saw palmetto extract: According to studies done, the use of this ingredient is recommended as it has been shown to help relieve various symptoms associated with an enlarged prostate
Stinging nettle: The root of this plant is used in the blend. It helps in helping treat benign hyperplasia of the prostate as well as helping men enhance general prostate health.
Lycopene: This is an extract that comes from tomatoes. It is high in antioxidants and has been associated with a low risk of prostate cancer in men.
Vitamin B6: The use of this ingredient helps in supporting overall prostate health
Pumpkin seed oil: This ingredient has been shown from research to contain agents that inhibit the enlargement of the prostate as a result of high testosterone levels.
Zinc: This ingredient has been shown to help in boosting the levels of testosterone as well as enhancing good health of the prostate. Research has also shown a link between low levels of testosterone and an enlarged prostate.
NOW Foods Prostate Support Benefits
This product comes from a well-known company. This is a company that has had a long history in selling various natural supplements.
The ingredients contained in the product are all natural and help give users a well-deserved boost in the body.
NOW Foods Prostate Support Drawbacks
Users do not get a money back guarantee when they use the product
The ingredients used have not been proven to offer the results said. The claims the manufacturer makes are based on theory
The manufacturer does not make any guarantees that the product will work
The product only offers shipping for US clients only.
How Should You Take NOW Foods Prostate Support?
Men are recommended to take one gel based capsule every day. The capsule should be taken with water and preferably after meals.
What Are The Possible Side Effects Of NOW Foods Prostate Support?
No side effects should be felt by users when the product is used as instructed.
The Bottom Line
NOW Foods Prostate Support is a product that a man can use to help support prostate health in the body. The company that manufactures this product has been around long enough for men to trust in its quality of products. The information provided in this article will help you decide whether to buy this supplement or not.
Prostate health is of great concern for men today. Preventative measures may reduce the risk of developing prostate cancer and improve overall prostate health and function. A quality, premium prostate supplement may shrink the prostate, minimize frequent urination, promote sexual function and contain quality ingredients.
Below you'll find some of the most effective prostate supplements on the market today, in our opinion.
Our Top Prostate Products
Ability to Shrink Enlarged Prostate
Ability to Eliminate Frequent All-Night Urinations & Weak Flow
Ability to Restore Normal Sexual Function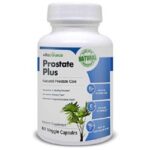 Ability to Shrink Enlarged Prostate
Ability to Eliminate Frequent All-Night Urinations & Weak Flow
Ability to Restore Normal Sexual Function
Ability to Shrink Enlarged Prostate
Ability to Eliminate Frequent All-Night Urinations & Weak Flow
Ability to Restore Normal Sexual Function

Ability to Shrink Enlarged Prostate
Ability to Eliminate Frequent All-Night Urinations & Weak Flow
Ability to Restore Normal Sexual Function