What is Optipatch?
The Optipatch product is a good alternative to oral capsules for men who wish to support the size of their penis and support their overall sexual health.
It is marketed on an informative website that contains many useful details about how the product works and also includes doctor endorsements and customer testimonials.
While it is claimed that the use of Optipatch can results in a significantly larger penis in as little as 60 days and that the patch is 15% more effective than oral capsules, no actual clinical evidence is shown to back this up.
There is a good FAQ section and secure ordering page where Optipatch can be bought for a cost of $59.97 per 10 patches. It is more economical to purchase more than one box at a time, as discounted prices are offered on multiple orders. Optipatch has a 90-day money back guarantee on all used products, with the stipulation that the customer must have tried it for at least 60-days before returning it for a refund.
Optipatch Claims & Features – What You Need To Know?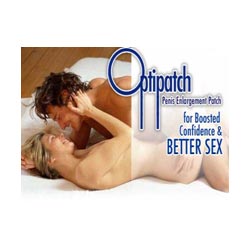 Although the main active ingredients in Optipatch are similar to many other products of this type, the fact that it is applied in a transdermal patch allows it to deliver consistent amounts of the formula over time. The addition of Menthol acts as an astringent to help absorb the substances which include Ginseng, Damiana, Fo-Ti, Gotu Kola and Saw Palmetto. By supporting the blood flow, the male erection will be stronger and longer-lasting and it is said that by continuously being stretched in this way, the penis will become permanently longer.
The patch is applied anywhere on the body (apart from the genitals) for a period of three days at a time.
What are the Benefits of Optipatch?
Optipatch is an alternative to oral treatments
The ingredients are herbal
Doctor testimonials are shown
The ordering process is secure
What are the Drawbacks of Optipatch?
Some users may have a reaction to the skin patch
No ingredient amounts are shown
Certain foods must be avoided whilst wearing the patch
Optipatch Review – The Bottom Line
There is good reason to believe that a transdermal patch may be just as effective as an oral capsule and this form of delivery has become popular recently.
However, it is unfortunate that the manufacturer does not provide their customers with scientific proof that the Optipatch can really support the size of the penis and, although it may help support stamina, it is a very expensive way of doing so.