OxyErect Pro Overview
OxyErect Pro is a male performance supplement that is boasted to be formulated to deliver its users the possibility of longer, better, more intense sex. OxyErect Pro even goes as far as to claim that it is the most powerful all-natural male enhancement supplement currently on the market. This supplement is sold through several online retailers, including its own official product website. The price for OxyErect Pro varies, depending the specific retailer. Average prices seem to fall between $55 and $65. Purchases of OxyErect Pro that are conducted through the official product website are backed by a 90-day money-back satisfaction guarantee.
OxyErect Pro Product Details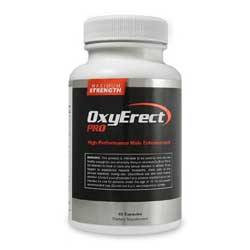 OxyErect Pro's formula includes the following active ingredients: Arginine AKG 2:1, L-Arginine HCl, Arginine ethyl ester, Tribulus terrestris, horny goat weed, Eurycoma longifolia, zinc, vitamin B, and Saw palmetto. Each of these ingredients is also explained on the official OxyErect Pro website. Tribulus terrestris is claimed to enhance libido and "fend off erectile dysfunction," and Eurycoma longifolia is claimed to help support healthy levels of testosterone. Horny goat weed is presented as being an all-natural way of helping to ensure proper maintenance of healthy levels of nitric oxide and blood flow to the penile region.
OxyErect Pro is claimed to provide some of its benefits just 30 to 60 minutes after it is initially ingested. However, full benefits may not be noticeable until after it has been taken regularly for a full month. Positive user reviews are featured on the product's website, and the manufacturers of OxyErect Pro claim that only less than 4% of customers who order OxyErect Pro end up requesting a full refund. The recommended dosage of OxyErect Pro is three capsules about 30 minutes prior to engaging in sexual activity.
Good About OxyErect Pro
OxyErect Pro can be purchased through a number of online retailers.
All of the ingredients are listed online.
There are positive user reviews for this supplement.
Purchases conducted through the official product website are endorsed by a 90-day money-back satisfaction guarantee.
Bad About OxyErect Pro
Clinical studies have not been conducted on this product.
This is a relatively expensive male enhancement supplement
OxyErect Pro The Bottom Line
OxyErect Pro's ingredients are not very different from those of less expensive male enhancement supplements. However, the fact that this supplement is endorsed by a money-back satisfaction guarantee may make it more appealing to some consumers than those less expensive products. Overall, OxyErect Pro appears to be an averagely formulated and yet relatively highly priced supplement, but the money-back guarantee could be seen as justification of this higher price.
Below you'll find the most effective male enhancement products on the market, we determine these products based on 4 key factors : Active ingredients, ability to support sexual stamina, enhance arousal & improved sexual desire, backed by clinical studies. Ultimately, we determined the bottom-line value of each product.