What is Oyster Patch?
While there are many male enhancement products available on the market, Oyster Patch is one of the few that does not involve a cream or oral capsule. As the name suggests, the product is a patch that is affixed to the skin, delivering the formula transdermally (through the skin).
The product is sold on the internet and while the website for the brand is well designed and very user-friendly, it is lacking in some areas. For example, there are no details about the manufacturer, no FAQ section and incomplete ingredient information.
Some customer testimonials are provided, but overall the general tone of the information is over-exaggerated.
Oyster Patch has a generous 90-day money back guarantee although the actual cost of the product is not disclosed – the consumer must call to order. However, judging from information on the internet, it seems the patch is approximately $35.00 but it is not clear how many are included in each pack. The manufacturer does offer free samples.
Oyster Patch Claims & Features – What You Need To Know?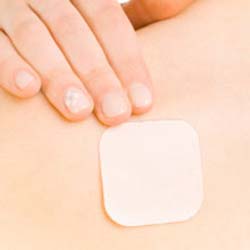 Only the key active ingredients are shown for Oyster Patch and they are all substances that are found in the oyster. These are Zinc, which is said to increase sperm production for added virility, Vitamin C for energy levels, Iodine to improve sexual appetite and Testosterone.
This last ingredient is particularly noteworthy as this is the essential male sex hormone that decreases in production with age. A lack of testosterone can result in loss of libido, weight gain, lack of vitality and problems with erectile dysfunction.
Unfortunately the amounts of these ingredients are not shown, so it cannot be said exactly how potent the patch is, although the manufacturer states that one patch delivers 'rock hard' erections for 7 days.
What are the Benefits of Oyster Patch?
Free samples are offered.
The patch contains testosterone.
It does not require oral dosage.
The website shows customer testimonials.
What are the Drawbacks of Oyster Patch?
The cost of Oyster Patch is not shown.
The product is only available online
Oyster Patch Review – The Bottom Line
A product such as the Oyster Patch is perfect for a man who is unable to take oral medications. While most men should not experience side effects from the product, there are some who may be allergic to the patch.
Additionally, there is no evidence to show that a formula delivered transdermally is any more effective than medication taken orally and no clinical proof for the Oyster Patch results is shown. Considering too that the cost of the patch is not known makes it impossible to recommend as a reliable way of enhancing sexual performance.