There are hundreds of products on the market that claim to hold the key to a larger penis for men who are interested in improving that area. In addition to the pills, lotions and herbal supplements, there are other tools and exercises that are promoted as ways to grow an under-sized penis. This has turned into a lucrative business as men strive to see positive improvements in their manhood. It should be noted that many men who think they are small are actually within the average range for what an average size penis would be. The average penis is four to six inches while erect, with a circumference that also measures four to six inches. Before spending money on any of these products, the question is do any of these products provide penis enlargement results?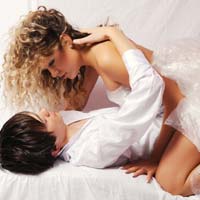 The most common product advertised for providing penis enlargement results are pills, supplements and lotions. These enhancers are made of different herbs, vitamins and chemicals that claim to enlarge penis by increasing blood flow to the area. Many experts agree that these products do not provide any real change to penis size or sexual performance. These products can also be dangerous to men with high blood pressure, high cholesterol or other heart problems.
The other options readily available for male enhancement are pumps and exercises. The vacuum pump is generally used to treat erectile dysfunction and does provide temporary penis enlargement results. The vacuum pulls blood into the organ and it is secured with a ring. The enlargement subsides after the ring is removed. The exercises reportedly stretch the penis making it longer. One of the most popular is called 'jelqing," where a milking motion is made hand over hand on the penis for approximately 30 to 60 minutes each day. This exercise does run the risk of causing scars, pain and disfiguration.
A less available option is surgery, which does give penis enlargement results but is much more costly. Two basic forms of penis enlargement surgery are to lengthen the organ or to widen it. To lengthen the penis, the ligament attaching it to the body is cut to release tension and to make the shaft appear longer. The surgery widening the penis is done by implanting tissue collected from cadavers. The surgeries do come with risks and have not been approved by many medical associations. A larger percentage of patients who have the surgery are not satisfied and do go on to seek further surgery.