Proextender Overview
The Proextender device is a piece of apparatus that is said to help increase the length of the penis overtime. It is sold through the official Proextender website which while being very informative, is slightly over-exaggerated in its tone which detracts from the product's credibility. However, the site does contain a lengthy FAQ section which answers questions not only about the product but also the ordering process, ordering security and guarantee. Proextender has a 6 month money back guarantee and can be purchased alone or in several package deals. The device alone costs $299.95 or the consumer can opt for the deluxe package which contains a number of sexual performance related supplements and a Proextender guide CD.
Proextender Product Details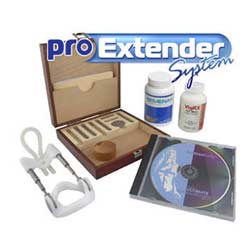 Proextender relies on an age-old practise of lengthening body parts slowly, overtime through traction. There is a full and comprehensive description of how Proextender works and clinical study results, which showed that the penis grew in length by an average of 1.1" after 1100 hours of use. The apparatus, which is said to be recommended by plastic surgeons and urologists, is designed to not cause discomfort, although it is warned that some men may experience minor skin irritation. It appears that Proextender was only available with a prescription at one time but no longer requires one.
Good About Proextender
The official website is informative
Discount prices are offered
There is a 6-month money back guarantee
The device is safe to use
Customer testimonials are shown
Clinical studies have been performed
Bad About Proextender
The product may cause some irritation
Proextender is expensive
The Proextender website is over-exaggerated in tone
Proextender The Bottom Line
There is some evidence to show that devices like the Proextender can work to a point, but the downside is that they can be cumbersome and even embarrassing to use. However, the Proextender would be a good alternative to oral supplements which some men may be unable or unwilling to take.