Pros-TEROL is an intelligent formulation of herbs and natural ingredients that support prostate health.
Unlike other prostate relieving formula sold in the market, Pros-TEROL is claimed to be more effective and contains the finest natural ingredients, not just Saw Palmetto, to work better in prevention or treatment for Benign Prostatic Hyperplasia.
Every ingredient used in Pros-TEROL is said to be backed by science and are carefully processed in order to relieve symptoms of prostate issues and take care of overall prostate health.
Claims and Features – What You Need to Know?
It is said that when men hit the age of 40, prostate problems start to emerge and it can lead into serious complications if not attended immediately.
Although there are prescription drugs known to help reduce the size of an enlarging prostate, a lot of men choose to medicate the natural way because of the serious side effects brought by prescription drugs.
This is why David Blyweiss partnered with the manufacturer Uniscience Company to create an all-natural prostate supplement that will promote the healthy function of men's prostate.
The powerful mix of natural ingredients enables Pros-TEROL to effectively deliver the following benefits:
Maintenance of a healthy prostate.
Helps prevent urinary incontinence and promotes stronger urine flow.
Improves sleeping habits.
Helps with proper bladder emptying.
Pros-TEROL website implies that in order to achieve better sex, you have to start with a healthy prostate. Our prostate plays a key role in achieving intense orgasms and it secretes fluids that nourish the sperm, which is about 30% of what we ejaculate. Particularly, Pros-TEROL is claimed to maintain the health of our prostate by regulating the hormones which can cause havoc when not controlled at normal levels.
The main reason why aging men experience prostate issues is because the chemical compound is known as DHT (dihydrotestosterone) increases as we get old.
DHT is said to negatively impact our prostate by increasing its size which can possibly lead to BPH (Benign Prostatic Hyperplasia) or even malignancies.
Pros-TEROL blocks the chemical 5-alpha reductase—the enzyme which converts testosterone into DHT because of its natural ingredients that are known as 5-alpha reductase inhibitors.
Lastly, Pros-TEROL also prevents free testosterone from binding into proteins called Sex Hormone Binding Globulin (SHBG), which locks up and keeps testosterone inactive. SHBG makes free testosterone useless thus lowering our libido, muscle strength and overall sexual performance.
What are the Ingredients in Pros-TEROL?
Pros-TEROL contains Beta-Sitosterol which is an effective 5-alpha reductase inhibitor and has alpha receptor blocking agents that relieve the symptoms of an enlarging prostate. To help with blocking 5-alpha reductase, Pros-TEROL also uses pumpkin seed extracts, pyridoxine, Zinc, Copper, and other natural extracts from Stinging Nettle and Soy known to be rich with isoflavones. These ingredients were even claimed to be better than Saw Palmetto alone, thus putting Pros-TEROL on top of other prostate supplements.
The supplement also contains an amino acid blend of L-Alanine, Glycine and L-Glutamic Acid which are vital for different metabolic processes inside the body.
These 3 building blocks of proteins also reduce nighttime urination, providing you with a good sleep night after night.
Aside from that, Pros-TEROL also uses Quercetin, Lycopene, Ginger Root Extract and Licorice Extract that delivers proper nutrients inside our body to help maintain the health of our prostate.
Quercetin and ginger root extract have anti-inflammatory properties which can reduce the size of an inflamed prostate, while both lycopene and licorice extract revitalize and maintain the healthy state of prostatic cells.
To top it all, Pros-TEROL also contains Bioperine known to significantly improve the absorption of all these e4ssential nutrients inside our body. It is a patented ingredient from piper nigrum that helps with bioavailability and makes Pros-TEROL readily absorbable by our body.
Pros-TEROL Benefits
It is offered in a 14 day free trial.
It improves urinary flow and relieves the symptoms of an enlarged prostate.
The product comes with a 100% risk free, money back guarantee.
Pros-TEROL Drawbacks
There are some negative feedbacks stating that Pros-TEROL doesn't relieve symptoms of enlarged prostate.
The product is only available at its website
It needs to be taken for a couple of weeks to feel the desired results.
How Should You Take Pros-TEROL?
Take 3 caplets (one serving) of Pros-TEROL daily in order to feel desired results.
The Bottom Line
Apart from some negative reviews about Pros-TEROL, you can really find a lot of satisfied users claiming that it is very effective.
Its official website is also very detailed with information regarding the ingredients they are using.
This is very helpful since it allows you to know what you are investing for in this kind of supplement.
Overall, this product is recommendable and lines with other prostate supplements with above average performance.
Prostate health is of great concern for men today. Preventative measures may reduce the risk of developing prostate cancer and improve overall prostate health and function. A quality, premium prostate supplement may shrink the prostate, minimize frequent urination, promote sexual function and contain quality ingredients.
Below you'll find some of the most effective prostate supplements on the market today, in our opinion.
Our Top Prostate Products
Prostara
Ability to Shrink Enlarged Prostate
Ability to Eliminate Frequent All-Night Urinations & Weak Flow
Ability to Restore Normal Sexual Function
Prostate Plus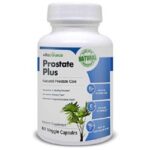 Ability to Shrink Enlarged Prostate
Ability to Eliminate Frequent All-Night Urinations & Weak Flow
Ability to Restore Normal Sexual Function
Prostacet
Ability to Shrink Enlarged Prostate
Ability to Eliminate Frequent All-Night Urinations & Weak Flow
Ability to Restore Normal Sexual Function
Prost8 Plus

Ability to Shrink Enlarged Prostate
Ability to Eliminate Frequent All-Night Urinations & Weak Flow
Ability to Restore Normal Sexual Function