Reading Time:
3
minutes
Prostate 5LX is a supplement that boosts the health of the prostate. Prostate 5LX modulates an enzyme called 5-lipoxygenase that plays an important role in ensuring the prostate function properly. It is the best supplement that has been used to reduce pain that results from the enlargement of the prostate.
The supplement is manufactured and distributed by New Chapter. The supplement costs as low as $15.00. Although the prices vary because there are several retailers selling the product, the consumer incur an extra cost of $5.00 on shipping. This is quite affordable to many people.
Manufacturer Information and its claims about Prostate 5LX
New Chapter is the manufacturer and also markets this product worldwide through an online system. But there are other online stores that sell the supplement at varied prices. The product claims to promote normal prostate health and promote normal urine flow.
It contains the green tea extract and rosemary extract that contains antioxidants which reduce the concentration of toxins in the prostatic cells. Saw palmetto improves the functioning of the urinary system.
How Does Prostate 5LX Work?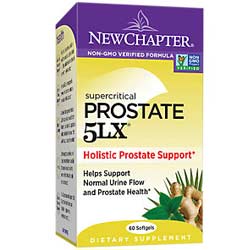 Prostate 5LX contains extracts that modulates 5-lipoxygenase. It also boosts normal cell growth. The supplement contains several anti-aging constituents, the antioxidants, which clear the free radicals in cells. The green tea extract has high concentration of antioxidants that are have been tested and used over a long period of time for their anti-aging property.
Saw palmetto has been used in many supplements to reduce urinary pains that are as a result of enlargement of the prostate. Selenium detoxifies the tissues of the prostate thus boosting the prostate health. The other components including ginger collectively enhance the effectiveness of this supplement in promoting the health of the prostate.
Prostate 5LX Ingredients
The supplement contains several natural ingredients extracted from plant tissues. They include; green tea extract, ginger, saw palmetto, selenium, rosemary extract, pumpkin seed oil and stinging nettle extract.
Saw palmetto -Reduces urinary problems which occur due to enlargement of the prostate. it has been used for a long period of time in treating prostate problems. It has no serious side effects.
Selenium – Acts as a tissue detoxifier thus promotes prostate health. It is safe and does not cause adverse side effects.
Rosemary leaf extract – Contains antioxidants that protect the prostatic cells from damage. The anti-aging constituents are numerous in this constituents. It is safe and does not cause adverse side effects.
Green tea extract – Also has high concentration of antioxidants that have anti-aging benefits. The antioxidants reduce the concentration of free radicals in the cells of the prostate to protect them from cellular damage.
Ginger – Contains 5-LO inhibitors. Research studies show that ginger has up to twenty-four phytonutrient inhibitors. it may cause some minor side effects such as bloating and heartburn.
Pumpkin seed oil – Provide several health benefits. It promotes the cellular functions of the prostate.
Prostate 5LX Benefits
Prostate 5LX has so many benefits. These include;
Prostate 5LX is much cheaper than other supplements in the market.
There are clinical statistics that support Prostate 5LX claims.
Prostate 5LX is very effective with minimal side effects.
The product can be purchased from various online stores at a price suitable to the consumer.
The supplement does not interact with other medications.
The ingredients used are 100% natural hence free from adverse side effects.
Prostate 5LX Drawbacks
May take longer time on medication before achieving good results.
Prostate 5LX Dosage Instructions
It is recommended that the user should take two Prostate 5LXcapsules per day with 8 ounces of water with meals.
Prostate 5LX Precautions
People with high blood pressure and gallstones should seek advice from physicians before use. It should be kept out of reach of children to avoid poisoning resulting from its consumption.
Prostate 5LX Side Effects
The supplement does not cause adverse side effects. But it may cause a few less side effects such as nausea, heartburn and bloating as it contains ginger. Although these effects can be handled easily.
Does Prostate 5LX Interact With Other Medications?
Prostate 5LX does not interact with other medications. But it is advisable to seek advice from experts or physicians before use.
Final Verdict
Prostate 5LX is a supplement that gives you the best results at an affordable cost. It is the most efficient supplement in promoting prostate health and solving urinary problems. Prostate 5LX has many other health benefits that arise after its consumption.
There are consumer reviews that support the product's claims. Clinical research conducted also support Prostate 5LX claims. It is safe for use as it contains natural ingredients that have been used even in other supplement over a long period of time.
It has no adverse side effects and does not interact with other medications. Unlike other supplements, Prostate 5LX is sold by many other retailers, hence the consumers have a wide variety of supply choices before making an order. There are so many benefits that one enjoys by choosing Prostate 5LX.
Prostate health is of great concern for men today. Preventative measures may reduce the risk of developing prostate cancer and improve overall prostate health and function. A quality, premium prostate supplement may shrink the prostate, minimize frequent urination, promote sexual function and contain quality ingredients.
Below you'll find some of the most effective prostate supplements on the market today, in our opinion.
**This is a subjective assessment based on the strength of the available informations and our estimation of efficacy.
*Result may vary. If you are pregnant, nursing, have a serious medical condition, or have a history of heart conditions we suggest consulting with a physician before using any supplement. The information contained in this website is provided for general informational purposes only. It is not intended to diagnose, treat, cure, or prevent any disease and should not be relied upon as a medical advice. Always consult your doctor before using any supplements.
Disclosure of Material connection: Some of the links in the post above are "associate sales links." This means if you can click on the link and purchase an item, we will receive a commission. Regardless, we only recommend products or services which we use personally and/or believe will add value to our readers. We are disclosing this in accordance with the Federal Trade Commission's 16 CFR, Part 255: "Guides Concerning the Use of Endorsements and Testimonials."