Reading Time:
3
minutes
In This Review
What is Prostate Health Formula?
Prostate Health Formula is designed to improve the health of the prostate. The supplement reduces and prevents the problems that can be caused by benign prostatic hyperplasia or BPH. Prostate Health Formula also provides antioxidants that protect the prostate cells from oxidative stress.
Prostate Health Formula contains 60 capsules that you can have $37.99 from its official supplier.
Manufacturer Information and its claims about the Prostate Health Formula
Blackmores is the manufacturer of Prostate Health Formula and is also the leading natural health brand in Australia. They also developed products like pregnancy iron, fish oil, royal jelly, and folate. They had been into this kind of business for more than 70 years.
The ingredients used by Blackmores in creating Prostate Health Formula are said to support prostate health in 2 ways. It maintains that normal function of the prostate and also provides the body with antioxidants that are responsible in protecting the prostate from free radicals that can cause harm.
How Does Prostate Health Formula Work?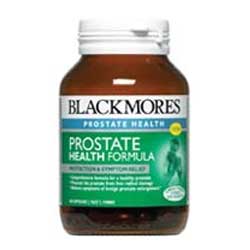 Prostate Health Formula can be used in treating BPH or the enlargement of prostate. It can be considered a preventative supplement because it can prevent you from having BPH. Saw Palmetto and netter root are considered the main ingredients of Prostate Health Formula that are known to treat BPH and its symptoms. Prostate Health Formula is an effective supplement used in reducing the size of your prostate.
Prostate Health Formula assists in the maintenance of a healthy prostate. With its antioxidant property, it protects your prostate cells from being harm by oxidative stress.
What are the Ingredients of Prostate Health Formula?
Serenoa serrulata (Saw palmetto)- it helps reduce the symptoms of BPH and ease the trouble with urination[1].
Urtica dioica (Nettle) extract equiv. to dry root- it is used as a treatment for urination problems related to the enlargement of prostate of the BPH. It also reduces cancer cells[2].
Lycopene (natural extract from tomatoes)- it is effective for the prevention of prostate cancer. It also serves as an antioxidant that helps you get rid of free radicals[3].
Natural vitamin E (d-alpha-tocopherol 50.3 mg)- it keeps the prostate tissues healthy[4].
Advertisement
*All individuals are unique. Your results can and will vary.
Selenomethionine (Selenium 50 µg)- it is an antioxidant that keeps you away from acquiring prostate cancer[5]
Zinc sulphate monohydrate (Zinc 7.5 mg)- one of the minerals that can help you maintain a health prostate[6].
What are the Benefits of Prostate Health Formula?
The supplement can help the body maintain a healthy prostate.
It relieves the symptoms that are cause by BPH.
Increase in regularity of urination.
Urinating several times at night.
It helps shrink the prostate.
What are the Drawbacks of Prostate Health Formula?
High quantity of zinc is not recommended for a supplement and it is better to obtain it from foods rich in zinc.
Selenium can also be toxic when taken in large quantity.
There are some studies that tell that the combination of vitamin E and selenium in large quantities might increase the possibility of developing cancer when taken the two ingredients together.
Dosage Instructions for Prostate Health Formula
Adults should take 1 capsule twice a day with meals. For best results, follow the correct dosage. You can also consult your doctor if the dosage is right for you.
Precautions
Prostate Health Formula should only be taken by adults.
The bottle contains worth of a month and you should not exceed with the given dose.
The supplement should not replace a balance diet.
You should not take more than a daily dose of 150 µg for selenium in a dietary supplement because it is toxic.
Prostate Health Formula Side Effects
Prostate Health formula can cause mild gastrointestinal symptoms.
Taking some of the ingredients found in Prostate Health Formula can be toxic.
Does Prostate Health Formula interact with other medications?
Zinc may decrease the absorption and efficacy of some medications. If ever that you are taking tetracycline or quinolone antibiotics, you have to separate the doses by at least 2 hours.
Prostate Health Formula Bottomline
Prostate cancer is said to be the second leading cause of cancer death in men. All men can possible suffer from prostate related problems. Prostate cancer slowly develops so it can be hard for you to identify the problem right away. And because the problem with prostate cancer is getting worst, making use of effective supplements that can help you have a healthy prostate can possibly save your life.
With lots of products that can be used to treat prostate related issues, choosing Prostate Health Formula is a good decision because it contains ingredients that are effective for treating prostate issues as well as urinary problems. It can prevent the symptoms of BPH or the enlargement of prostate. You can have the assurance that this can help you preserve the functions of a healthy prostate.
Prostate health is of great concern for men today. Preventative measures may reduce the risk of developing prostate cancer and improve overall prostate health and function. A quality, premium prostate supplement may shrink the prostate, minimize frequent urination, promote sexual function and contain quality ingredients.
Below you'll find some of the most effective prostate supplements on the market today, in our opinion.
References
1.Agbabiaka TB, Pittler MH, Wider B, et al. Serenoa repens (saw palmetto): a systematic review of adverse events. Drug Safety. 2009;32(8):637-647.
2.Bakhshaee M, Mohammad Pour AH, Esmaeili M, Jabbari Azad F, Alipour Talesh G, Salehi M, Noorollahian Mohajer M. Efficacy of Supportive Therapy of Allergic Rhinitis by Stinging Nettle (Urtica dioica) root extract: a Randomized, Double-Blind, Placebo- Controlled, Clinical Trial. Iran J Pharm Res. 2017 Winter;16(Suppl):112-118. PMID: 29844782; PMCID: PMC5963652.
3.Kumar NB, Besterman-Dahan K, Kang L, Pow-Sang J, Xu P, Allen K, Riccardi D, Krischer JP. Results of a Randomized Clinical Trial of the Action of Several Doses of Lycopene in Localized Prostate Cancer: Administration Prior to Radical Prostatectomy. Clin Med Urol. 2008 Apr 16;1:1-14. doi: 10.4137/cmu.s718. PMID: 20354574; PMCID: PMC2846655.
4.Robinson I, de Serna DG, Gutierrez A, Schade DS. Vitamin E in humans: an explanation of clinical trial failure. Endocr Pract. 2006 Sep-Oct;12(5):576-82. doi: 10.4158/EP.12.5.576. PMID: 17002935.
5.Sanmartin C, Plano D, Font M, Palop JA. Selenium and clinical trials: new therapeutic evidence for multiple diseases. Curr Med Chem. 2011;18(30):4635-50. doi: 10.2174/092986711797379249. PMID: 21864284.
6.Ripamonti C, Zecca E, Brunelli C, Fulfaro F, Villa S, Balzarini A, Bombardieri E, De Conno F. A randomized, controlled clinical trial to evaluate the effects of zinc sulfate on cancer patients with taste alterations caused by head and neck irradiation. Cancer. 1998 May 15;82(10):1938-45. doi: 10.1002/(sici)1097-0142(19980515)82:10<1938::aid-cncr18>3.0.co;2-u. PMID: 9587128.
**This is a subjective assessment based on the strength of the available informations and our estimation of efficacy.
*Result may vary. If you are pregnant, nursing, have a serious medical condition, or have a history of heart conditions we suggest consulting with a physician before using any supplement. The information contained in this website is provided for general informational purposes only. It is not intended to diagnose, treat, cure, or prevent any disease and should not be relied upon as a medical advice. Always consult your doctor before using any supplements.
Disclosure of Material connection: Some of the links in the post above are "associate sales links." This means if you can click on the link and purchase an item, we will receive a commission. Regardless, we only recommend products or services which we use personally and/or believe will add value to our readers. We are disclosing this in accordance with the Federal Trade Commission's 16 CFR, Part 255: "Guides Concerning the Use of Endorsements and Testimonials."