Reading Time:
4
minutes
In This Review
What is Prostate PM?
Prostate PM is a supplement customized to solve the problems associated with the enlargement of the prostate. This product contains an array of ingredients which are all natural, active and work in unison to restore the normal size of the prostate and facilitate a normal flow of the urinary system. The usage of this product reduces the urgency and frequency of urination, inflammation or burning sensation of the urinary tract hence giving the user a humble slumber time and ultimately focuses in his daily activities.
According to its official website, each bottle of Prostate PM costs $24.95.
Manufacturer Information and Claims about Prostate PM
Prostate PM is manufactured by Pomology Formulas Company. The manufacturer claims that this product is the best in its category since it has been customized to pinpoint and work on the conditions that the user cares about and in every age and life stage. The manufacturer claims that the product is a result of advanced nutritional research and sophisticated technology and it enjoys some of the highest ORAC values in the supplement category. The manufacturer further claims that the product is trusted by a very large consumer base and that it has passed the international standards and hence declared safe for human consumption.
How Does Prostate PM Work?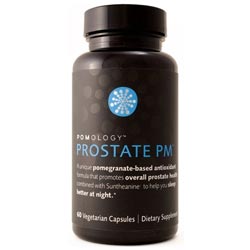 Prostate PM contains several ingredients. These ingredients work together to achieve a healthy prostate and a normal urinary flow. The different roles of these active ingredients are discussed below.
Advertisement
*All individuals are unique. Your results can and will vary.
What are the Ingredients of Prostate PM?
The main and active ingredients of this product include; Pomegranate, Beta-sitosterol, Green tea, Cranberry Powder, Suntheanine among others. These ingredients perform different functions which ultimately lead to a healthy prostate and a smooth and normal urinary flow. The functions are as listed below;
Beta-sitosterol
It is responsible for the maintenance of a healthy prostate function and size[1].
It is responsible for a normal urinary flow.
It is also an active ingredient in Saw palmetto which performs crucial function in prostate functions.
Green Tea
This active ingredient contains phytochemicals that help to slow down and even stop the spread of cancer-causing cells[1].
Suntheanine
This ingredient is a patended blend that promotes nighttime rest and relaxation[3].
Cranberry Powder
This ingredient just like the others is important in the sense that it aids in reducing and preventing prostate swelling and it also flushes away potentially harmful toxins[4].
Pomegranate
This ingredient is an anti-oxidant which protects the prostate cells against free radical damages[5].
Advertisement
*All individuals are unique. Your results can and will vary.
What are the Benefits of Prostate PM?
It supports a healthy prostate size and its functions.
It boosts the health of the prostate with the help of the 600mg of Sitosterol complex.
It improves the functioning of the urinary flow hence giving one a humble slumber time by reducing the urgency and frequency of urination.
The anti-oxidant ingredients such as pomegranates, green tea extracts and cranberry extracts have a positive externality in that, their usage also brings forth anti-aging effects to the user.
It contains a premium blend of naturally occurring anti-oxidant hence no chemical reactions and effects on the user's body.
What are the Drawbacks of Prostate PM?
There is very little information about this product only.
The product is expensive compared to other medicines or alternatives ways of treating this prostate condition.
Prostate PM Dosage Instructions
The user is advised to take 2 capsules each evening or as recommended by his health care professional.
Prostate PM Precautions
It should be used by adult males only.
In case of any side effect, stop using the product and consult a doctor.
It should be kept out of children's reach.
It should be kept in cool and dry place and one should not refrigerate.
The Side Effects of Prostate PM
There are very few reported cases of side effects caused by usage of this product. The commonly reported side effect is inflammation or burning sensation in the urethra and the bladder. These side effects cannot be concluded to be from the usage of Prostate PM because they are common in most urinary tract infections. All in all, in case of any side effect, the user is advised to stop using the product and seek medical assistance from a qualified medical worker.
Does Prostate PM React With Other Medications?
No. This is because all the active ingredients in this product are all natural and this makes them neutral when combined or other medications. It is for this reason that there are very few reported side effects of this product.
The Bottomline
Aging is a natural process to all men world over and therefore it should be embraced. On the other hand there are other undesirable effects that come with aging. One of these effects is the enlargement of the prostate which causes a high frequency of urination, inflammation or burning sensation of the prostate. All these disrupt sleep at night and will ultimately lead to sleep deprivation, sluggishness and lack of focus. These effects should be dealt with in most effective way possible and that calls for a lasting medical solution to this problem. That is why I conclude that Prostate PM is the most suitable. This judgment is guided by the available evidence about the efficiency and effectiveness of this product.
Prostate health is of great concern for men today. Preventative measures may reduce the risk of developing prostate cancer and improve overall prostate health and function. A quality, premium prostate supplement may shrink the prostate, minimize frequent urination, promote sexual function and contain quality ingredients.
Below you'll find some of the most effective prostate supplements on the market today, in our opinion.
References
1.Klippel KF, Hiltl DM, Schipp B. A multicentric, placebo-controlled, double-blind clinical trial of beta-sitosterol (phytosterol) for the treatment of benign prostatic hyperplasia. German BPH-Phyto Study group. Br J Urol. 1997 Sep;80(3):427-32. PMID: 9313662.
2.Weisburger JH. Approaches for chronic disease prevention based on current understanding of underlying mechanisms. Am J Clin Nutr. 2000;71(6):1710S–1714S. [PubMed] [Google Scholar]
3.Gomez-Ramirez M., Higgins B.A., Rycroft J.A., Owen G.N., Mahoney J., Shpaner M., Foxe J.J. The deployment of intersensory selective attention: A high-density electrical mapping study of the effects of theanine. Clin. Neuropharmacol. 2007;30:25–38. doi: 10.1097/01.WNF.0000240940.13876.17. [PubMed] [CrossRef] [Google Scholar]
4.Kaspar KL, Howell AB, Khoo C. A randomized, double-blind, placebo-controlled trial to assess the bacterial anti-adhesion effects of cranberry extract beverages. Food Funct. 2015 Apr;6(4):1212-7. doi: 10.1039/c4fo01018c. PMID: 25723356.
5.. Mohan M, Patankar P, Ghadi P, Kasture S. Cardioprotective potential of Punica granatum extract in isoproterenol-induced myocardial infarction in Wistar rats. J Pharmacol Pharmacother 2010;1:32-7. [PMC free article] [PubMed] [Google Scholar]
**This is a subjective assessment based on the strength of the available informations and our estimation of efficacy.
*Result may vary. If you are pregnant, nursing, have a serious medical condition, or have a history of heart conditions we suggest consulting with a physician before using any supplement. The information contained in this website is provided for general informational purposes only. It is not intended to diagnose, treat, cure, or prevent any disease and should not be relied upon as a medical advice. Always consult your doctor before using any supplements.
Disclosure of Material connection: Some of the links in the post above are "associate sales links." This means if you can click on the link and purchase an item, we will receive a commission. Regardless, we only recommend products or services which we use personally and/or believe will add value to our readers. We are disclosing this in accordance with the Federal Trade Commission's 16 CFR, Part 255: "Guides Concerning the Use of Endorsements and Testimonials."