Reading Time:
4
minutes
In This Review
What is Prostate Regain?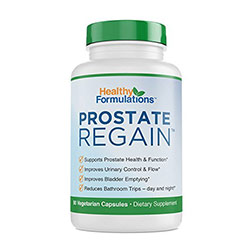 One of the most common symptoms of Benign Prostate Hyperplasia, the technical term for an enlarged prostate, is the need to make frequent trips to the bathroom to urinate.
This can have a very bad effect on the quality of sleep for men, as this symptom usually strikes in the dead of night.
If you are dealing with benign prostate hyperplasia, Prostate Regain may be a useful supplement for you.
Prostate Regainis a dietary supplement that takes aim at the symptoms of enlarged prostate, the most common of which as described above is nocturia.
The product claims that it has some of the most potent ingredients and nutrients within it for treating enlarged prostate and the problems that come with this affliction.
Advertisement
*All individuals are unique. Your results can and will vary.
Prostate Regain is an over the counter supplement and no intended to treat any disease.
Prostate Regain Claims & Features – What You Need to Know?
The product in question was made by a company called Healthy Formulations. Healthy Formulations make health supplements that are rooted in scientific research.
In fact, the company emphasizes the fact that they scoured the medical records to create Prostate Regain.
They tell the consumer that Prostate Regain will relieve them of urinary problems caused by BPH and that Prostate Regain contains some of the most powerful ingredients to treat this condition.
How Does Prostate Regain Work?
The main function of this product is to help men gain urinary regularity. While the product may also work to reduce swelling in the prostate Prostate Regain is geared mainly toward treating nocturia.
The product is claimed to reduce urinary congestion by a significant margin as well as helping men avoid bladder irritation. Prostate Regain may even be able to help men sleep more peacefully.
Advertisement
*All individuals are unique. Your results can and will vary.
The product works internally as a dietary supplement as well. Prostate Regain may also have a beneficial effect if you are suffering from a swollen bladder.
What are the Ingredients of Prostate Regain?
According to the makers of Prostate Regain, there are 13 powerful ingredients that can help support the overall health of a man's prostate.
These are the ingredients that make up Prostate Regain. Let's go into detail with some of these ingredients.
Stinging Nettle Extract – As a diuretic, stinging nettle may be beneficial as an antioxidant[1].
Pumpkin Seed Extract – Pumpkin seed extract may help for those suffering from benign prostate hyperplasia[2].
Saw Palmetto – Saw palmetto has been used for a long time to treat urinary problems as well as sexual issues[3].
Graminex Flower Pollen – This ingredient acts as an antioxidant and relieve urinary issues[4].
Pygeum bark – The bark from this cherry tree supports urinary tract health and may relieve pelvic pain
[5].
Lycopene – Found abundantly in tomatoes, this phytonutrient is believed to help prevent major prostate issues.
Boron – It is becoming more widely believed as of late that boron can kill harmful prostate cells.
Copper – Copper may also be beneficial for the destruction of harmful cells in the prostate.
Advertisement
*All individuals are unique. Your results can and will vary.
What are the Benefits of Prostate Regain?
The main benefit is that Prostate Regain may help relieve you of frequent urination.
This product may also have an effect of prostate swelling.
Prostate Regain may be able to prevent more serious prostate issues.
Prostate Regain may help treat the many symptoms of benign prostate hyperplasia.
What are the Drawbacks of Prostate Regain?
The serving size for this product is 3 capsules which may be inconvenient for users.
Many of the components of this product have not had their nutritional value established.
Some of the ingredients in Prostate Regain such as selenium, have yielded inconclusive results as far as their benefit to the prostate.
This product may not do anything for frequent day time urination and may cause nausea.
FAQs
How Should you Take Prostate Regain?
The recommended usage for this product is to take 3 capsules a day with a meal. You can also take one capsule 3 times a day with a meal or as directed by a physician.
How Much Does Prostate Regain Cost?
A single bottle of Prostate Regain if you are not a website subscriber will cost $49.95. If you are a member, a single bottle containing a one month supply costs $29.97.
What is Prostate Regain's Return Policy?
The company that makes Prostate Regain does offer a no questions asked refund policy. All you have to do is send the product back even if used within 60 days whether the bottle was opened or not.
Prostate Regain – Is it Safe?
The ingredients that comprise Prostate Regain seem to be safe. Although you should always ask your doctor before you start taking any prostate supplement.
The Bottomline
To review, Prostate Regain is a prostate supplement aimed at treating the symptoms of BPH. What it may be able to do for you is reduce the amount of times a day you need to urinate, it may help out with a swollen prostate, and it may prevent more serious prostate damage.
What the user should keep in mind however is that the dosage size at 3 capsules a day is rather large compared to other such supplements, it may have some filler ingredients, and the product contains soy which means you will not be able to use it if you are allergic to soy.
Also, selenium may not even be useful for prostate health. We suggest searching the market for similar supplements if you are considering purchasing Prostate Regain.
Prostate health is of great concern for men today. Preventative measures may reduce the risk of developing prostate cancer and improve overall prostate health and function. A quality, premium prostate supplement may shrink the prostate, minimize frequent urination, promote sexual function and contain quality ingredients.
Below you'll find some of the most effective prostate supplements on the market today, in our opinion.
**This is a subjective assessment based on the strength of the available informations and our estimation of efficacy.
*Result may vary. If you are pregnant, nursing, have a serious medical condition, or have a history of heart conditions we suggest consulting with a physician before using any supplement. The information contained in this website is provided for general informational purposes only. It is not intended to diagnose, treat, cure, or prevent any disease and should not be relied upon as a medical advice. Always consult your doctor before using any supplements.
Disclosure of Material connection: Some of the links in the post above are "associate sales links." This means if you can click on the link and purchase an item, we will receive a commission. Regardless, we only recommend products or services which we use personally and/or believe will add value to our readers. We are disclosing this in accordance with the Federal Trade Commission's 16 CFR, Part 255: "Guides Concerning the Use of Endorsements and Testimonials."