Overview
Prostate health is an issue that a lot of men take for granted.The reason behind this is that the prostate cannot be seen physically and thus many men tend to ignore its health.
However, as one ages into their 5th decade of life, it becomes quite a big challenge for a lot of men to maintain the normal production of testosterone and this poses a big challenge to a lot of men.
With this challenge comes a big problem where men have to contend with low levels of testosterone in the body. Low levels of testosterone triggers the enlargement of the prostate and this in turn brings about urinary incontinence issues where a man has to go for several bathroom breaks especially at night.
What Is Prostera?
Natural based supplements are ideal as they are not linked with any side effects thus men can use a product with no worry. One such product that stands out is Prostera.
To prevent this enlargement of the prostate which causes various challenges to men, use of a product that can help boost function is recommended. Prostera is a unique prostate boosting male enhancement supplement formulated to be used as a dietary supplement.
This product makes use of a blend of potent natural ingredients that help users get the best boost in the body naturally. The product manufacturer of Prostera goes by the name Vita Sciences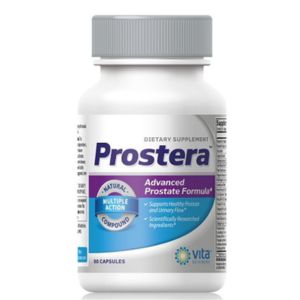 Editor's Rating
Brand Highlights
This is manufactured by Vita Sciences.
Made with safe and natural ingredients.
Prostera is made for men.
Reduces the Urgent Need To Urinate.
Decreases Bathroom Trips Both Day & Night.
Buy on AmazonBuy on Walmart*All the prices mentioned on their websites are subject to change.
Specs
Form:

Capsule

Brand:

Vita Sciences

Benefits:

Improve urinary tract symptoms, Reduce frequent and/or urgent urination, Reduce pain during urination & bladder infection, and Boost the sexual performance.

Ingredients:

Saw Palmetto, Beta-sitosterol, Pygeum Africanum, Zinc, Selenium, Copper, Cat Claw, Broccoli, Maitake, Reishi Mushroom, and Red Raspberry.

Cost

Pack of 1 Supply For $24.95 only

Dosage

Daily only 3 capsules.
Pros and Cons of Prostera
Pros
It helps maintain good prostate health
It prevents further enlargement of the prostate
It may help promote good sexual function
It makes use of all natural ingredients
Cons
The product is not approved to be used by the FDA. As such, it can only be used as a dietary supplement
This product is not recommended for use for users below the age of 18
How Does Prostera Rate?
Overall Rating: 3.4
| Key Points | Rating |
| --- | --- |
| Manufacturer | 3.3 |
| Safety | 3.4 |
| Customer Reviews | 3.5 |
| Money-Back Guarantee | 3.4 |
---
Prostera Claims & Features – What You Need To Know?
The main claim that Prostera makes is that is helps men by giving them the best prostate support as they age.
It claims to help boost the flow of urine as well as enhance the function of the bladder. The manufacturer claims to help give men the well-deserved boost in the body by making use of all natural ingredients.
How Does Prostera Work?
The manufacturer claims that it contains herbal extracts and components that improve prostate function. The supplement works by promoting a smooth urine flow, increasing prostate functions, and maybe promoting a good night's sleep.
The product also contains natural ingredients that may alleviate bladder irritation by limiting urine flow. The product may help to reduce the growth and activity of prostate cancer cells. Its formula also contains components that may improve men's sexual health.
What Are the Ingredients in Prostera?
The main ingredients in this product include the following:
Saw Palmetto
– This is by far the biggest ingredient that is used to help boost overall functionality in the prostate.
– It has been shown to contain nutrients that help boost the function of the prostate.
– It also claims to helps promote production of testosterone which goes hand in hand with good prostate function[1].
Beta-sitosterol
– These plant sterols are quite crucial in the functionality of the body.
– They help minimize the incidence of cancer in the body as well as enhance heart health.
– These ingredient also helps reduce cholesterol levels in the blood[2].
Pygeum Africanum
– This is an extract that comes from the bark of the Prunus Africana tree and which is seen in most of the regions of Africa.
– It helps in dealing with various prostate challenges, kidney disease as well as sexual performance in men[3].
Other Ingredients: include zinc, selenium, copper, cat claw, broccoli, maitake and reishi mushroom as well as red raspberry.
See also – Prostol Review
FAQ's
Q: How to Use Prostera?
Vita Sciences recommends that three capsules should be taken on a daily basis to get the desired results in prostate function.
Q: How Much Does Prostera Cost?
The price of 1 bottle pack will cost $24.95 when purchased from its official website.
Q: What Is Prostera Return Policy?
It comes with a 60-days money-back guarantee and return policy. The money refund policy on the product's purchase is however mentioned in official website.
Q: Is Prostera Safe to Use?
The supplement is reported to be safe to use with other medications due to the nature of its ingredients. For assurance though, you should consult your doctor before use.
Q: What Are the Side Effects of Prostera?
The potential side effects include vomiting and headache.
Q: What Are Some Other Similar Products to Prostera?
How We Researched & Rated?
Here is our score, based on scientific evidence, of how likely Prostera will be effective for its claimed benefits:
Reduce urination frequency*

3.3/

5

Strengthening Urine System*

3.2/

5

Reduction in Leaking of Urine*

3.3/

5

Improvement in BPH ( Benign Prostatic Hyperplasia)*

3.2/

5
We used the insights from our research and testing to assign a star rating from one to five (five being the best; one being the worst) to this product.
Bottom Line
Poor prostate function is one of the most commonly occurring issues for a lot of men. It is for that reason that use of an enhancement product is recommended.
Men should take time when choosing the desired supplement that they can use. You should also checkout Prostate 360.
Prostera can be the product that can boost general function in men. With such facts, you can finally make the final decision on whether you are to use the LipoVextra supplement or not
Prostate health is of great concern for men today. Preventative measures may reduce the risk of developing prostate cancer and improve overall prostate health and function. A quality, premium prostate supplement may shrink the prostate, minimize frequent urination, promote sexual function and contain quality ingredients.
Below you'll find some of the most effective prostate supplements on the market today, in our opinion.
Our Top Prostate Products
Bottom Line
Prostate Plus is a prostate health supplement that contains important ingredients that support prostate function and health. Many users attempted a few other products, but this one is truly effective.
Check Price
Bottom Line
Prostate MD is a dietary supplement for men who have an enlarged prostate and experience urinary tract symptoms like frequent urination. Many users claim that they try this for two months to see expected changes.
Check Price
Bottom Line
Prostate 911 uses patented and clinically proven ingredients chosen for their specific function in the urinary tract and prostate health. Furthermore, many users claim that it is both safe and efficient for them.
Check Price
3 Sources
We review published medical research in respected scientific journals to arrive at our conclusions about a product or health topic. This ensures the highest standard of scientific accuracy.
[1]. Fagelman E, Lowe FC. Saw Palmetto Berry as a Treatment for BPH. Rev Urol. 2001 Summer;3(3):134-8. PMID: 16985705; PMCID: PMC1476047.
[2]. Klippel KF, Hiltl DM, Schipp B. A multicentric, placebo-controlled, double-blind clinical trial of beta-sitosterol (phytosterol) for the treatment of benign prostatic hyperplasia. German BPH-Phyto Study group. Br J Urol. 1997 Sep;80(3):427-32. PMID: 9313662.
[3]. Klippel KF, Hiltl DM, Schipp B. A multicentric, placebo-controlled, double-blind clinical trial of beta-sitosterol (phytosterol) for the treatment of benign prostatic hyperplasia. German BPH-Phyto Study group. Br J Urol. 1997 Sep;80(3):427-32. PMID: 9313662.