Prozemax Overview
Prozemax is a topical male enhancement creme designed to invigorate and stimulate for maximum arousal, erection quality and stamina.
Prozemax Details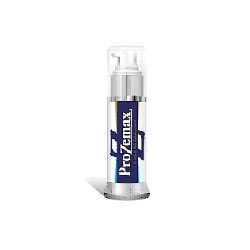 Prozemax is a topical creme used before sexual activity to support arousal, sensitivity, erection quality and stamina. This long lasting, silky smooth creme warms the genitals to highly support sensitivity, and invoke stronger, harder erections. Stamina is also supported for longer periods of intimacy.
Ingredients include Water, Helianthus Annuus (Sunflower) Seed Oil, 2-Methylpropanediol, Hydrogenated Lecithin, Ethoxydiglycol, Dimethicone, Behenyl Alcohol, Hydroxyethyl Cellulose, Stearic Acid, Gynostemma, Pentaphyllum Extract, Menthyl Lactate, Phenoxyethanol, PEG-90M, Lactic Acid, Tocopheryl Acetate, L-Arginine, Poluquarternium 10, Tetrahexyl Decyl Ascorbate, Boswellia Serrata Extract, Xanthan Gum, Methyparaben, Niacin, Retinyl Palmitate, Sodium Hydroxide, Ethylparaben, Butylparaben, Oligohexapeptide, Propylparaben, Isobutylparaben, and Phytonadione.
There are no testimonials or clinical study information available on the page. There is also no information listed about the manufacturer.
Good about Prozemax
Contact information available
Ingredients listed
Secure, easy to use website
Long lasting
30 day money-back guarantee
Odorless
Discreet packaging
Bad about Prozemax
Not all natural
Doesn't detail how long it takes to work
No reports on whether it is good for sensitive skin
Controversial paraben ingredients for the possible link to cancer
No clinical information
No information about the manufacturer
"Free" sample only comes with the purchase of two other products
Prozemax: the bottom line
Prozemax is a male enhancement creme, which is perfect for those who do not wish to take pills. Although activation time is not mentioned, it is safe to assume that the product works faster than pills, so could be used in sporadic intimate activity. The product is not all-natural however, and there could potentially be concerns for sensitive skin. A thirty day money-back guarantee is in place, making it safe to try