If you have trouble with early ejaculation, you're not alone. Many men have this problem, but few of them like to talk about it. They may avoid addressing the issue with their doctor, just hoping that the problem will go away on its own. For many men, it's embarrassing to discuss anything to do with their sexual health, and they may also be uncomfortable talking about it with their partner. If they're going to have a relationship, though, they need to address their sexual concerns so that they can find a solution that works for them and for their partner.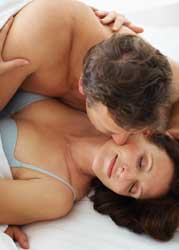 Some men ejaculate early because they are nervous. This is very common with younger men who don't have that much experience. It's less common with older men, but it can still happen. That's especially true if a man hasn't had a partner for a while, but there are other situations where it may occur. early ejaculation has other causes besides nervousness. There are men who are simply more sensitive to stimulation than others, and they can have problems with ejaculating too early. There is not one, specific cause of early ejaculation that is true for all men, so talking with your doctor about your concerns is a good first step toward correcting the problem.
If your father struggled with early ejaculation, you may also have difficulty, suggesting that there is also a genetic component that should be considered. A doctor can tell you whether there is any medical condition that's causing your problem. If there's no discernible physical cause, you may need to talk with a sexual therapist. Doing that can help you get in touch with thoughts and feelings that might be causing you a problem in the bedroom. Sometimes, people have been traumatized by past experiences and they hold onto those feelings deep in their subconscious.
Men who had early sexual experiences where they had to hurry or they had a fear of getting caught may also suffer from early ejaculation. They were conditioned to get through their sexual encounter quickly, and that has made that normal for them. It is possible to retrain your body so that you can last longer, but that does take some work. If you want to prolong your sexual experience, make sure that you discuss treatment options that are safe and effective, so that you can choose the right one for your situation.