Reading Time:
3
minutes
In This Review
What is Q-Urol?
This is a nutritional supplement that is specially designed to treat Chronic Prostatitis. Chronic Prostatitis is a condition that can normally affect men regardless of their age.
This condition, according to research, results in extensive repercussions as in impairing the mental growth and other physical disease manifestations. This condition is, therefore, a threat to the quality health of a man.
The product can be obtained directly from the manufacturer and other online retailers:
Q-Urol Claims & Features – What You Need To Know?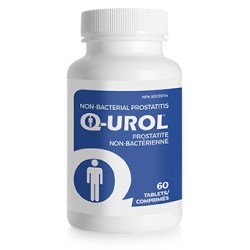 The product is manufactured by Farr Laboratories which is a premier company producing nutraceutical products, manufacturing and distributing food supplements.
Advertisement
*All individuals are unique. Your results can and will vary.
The company advertises the product as a powerful version of Prosta Q, which possesses extra strength as in the effectiveness of the original product. The company goes ahead to claim its ability to complete the chronic prostatis condition safely without leaving the user any adverse side effects.
It brags of the supplement as being a product of well-formulated one with potent ingredients that make it produce the desired promising results. This qualifies the product as being effective in improving the health of the prostate.
Q-Urol Review – How Does It Work?
The product is made up of ingredients that contain anti-inflammatory properties, basically crucial in its effective function of treating chronic prostatis condition.
The property of the product being time-release, allows it to have lasting essential results by a means of releasing its key ingredients gradually into the body of the user. It, therefore, implies that the product maintains the overall health of the prostate.
What are the Ingredients of Q-Urol?
Calcium – It plays a significant role in the enabling the action of Q-Urol in the body system[1]
Pollen Extract – Posses therapeutic effects on the prostate gland and the renal system Contains several nutrients that help in maintaining the health of the prostate[2].
Advertisement
*All individuals are unique. Your results can and will vary.
Quercetin – This is the key active ingredient in the formula It contains antioxidant properties. Prevents prostate and urinary tract inflammation effects[3].
Papain – It is an enzyme It helps in supporting the Bromelain in the action of absorbing quercetin[4]
Bromelain – It helps in the absorption of some of the Q-Urol ingredients e.g Quercetin. An agent of anti-inflammation against the prostate and the renal tract[5].
Other ingredients:- in the formula include; magnesium, silicon dioxide, microcrystalline cellulose, stearic acid, and hypromellose.
What are the Benefits of Q-Urol?
The ingredients making up the formula are scientifically and clinically tested.
Might be effective in treating the Chronic Prostatis condition
It may promote the overall health of the prostate
What are the Drawbacks of Q-Urol?
Bears some side effects that however varies from an individual to another
It has contraindications with some drugs e.g. antibiotics.
Some of the ingredients are not clinically tested and proven to be effective in the chronic Prostatis treatment.
The Dosage Instructions of Q-urol
Take 2 tablets of the product daily with meals, preferably 1 tablet after or before the breakfast and the other at the evening meal. When you notice the receding of the symptoms, consider taking 1 tablet daily as recommended.
The Precautions
Keep the bottle of this product tightly closed in a cool and dry place and avoid extreme weather conditions.
Keep it far from children's reach.
Strictly follow the manufacturer dosage instructions for an effective result.
Does Q-Urol Interact with other Medications?
It is recommended that the product should not be taken with drugs such as blood thinners and quinoline antibiotics as they may interact negatively.
Individuals who bear allergic reactions to pollen should exclusively avoid the use of this product as it may result in anaphylactic reactions. On the same note, children, expectant, breastfeeding and lactating mothers should consult their doctors before use.
The Bottomline
Many people have always been on a constant search for the best supplement that can effectively treat chronic prostatis. Many have undergone surgical processes that however result in harmful effects to their bodies.
This product is far much better than the surgeries and the prescription drugs. In finding out the most effective treatment for this condition, it is advisable that you consider the benefits of the product and its safety.
Q-Urol is such effective, not only in treating the condition but also maintains the general health of the prostate.
Advertisement
*All individuals are unique. Your results can and will vary.
Prostate health is of great concern for men today. Preventative measures may reduce the risk of developing prostate cancer and improve overall prostate health and function. A quality, premium prostate supplement may shrink the prostate, minimize frequent urination, promote sexual function and contain quality ingredients.
Below you'll find some of the most effective prostate supplements on the market today, in our opinion.
References
1.Dawson-Hughes B. Calcium supplementation and bone loss: a review of controlled clinical trials. Am J Clin Nutr. 1991 Jul;54(1 Suppl):274S-280S. doi: 10.1093/ajcn/54.1.274S. PMID: 2053573.
2.Barbalias GA. Clinical and therapeutical guidelines for chronic prostatitis. From bacteriological importance to neuromuscular considerations. Eur Urol. 2000;37:116–117. doi: 10.1159/000020111. [PubMed] [CrossRef] [Google Scholar]
3.Di Pierro F, Iqtadar S, Khan A, Ullah Mumtaz S, Masud Chaudhry M, Bertuccioli A, Derosa G, Maffioli P, Togni S, Riva A, Allegrini P, Khan S. Potential Clinical Benefits of Quercetin in the Early Stage of COVID-19: Results of a Second, Pilot, Randomized, Controlled and Open-Label Clinical Trial. Int J Gen Med. 2021 Jun 24;14:2807-2816. doi: 10.2147/IJGM.S318949. PMID: 34194240; PMCID: PMC8238537.
4.Islam SA, Chang DS, Colvin RA, et al. Mouse CCL8, a CCR8 agonist, promotes atopic dermatitis by recruiting IL-5+ T(H)2 cells. Nat Immunol. 2011;12:167–77. [PMC free article] [PubMed] [Google Scholar]
5.Brien S, Lewith G, Walker A, Hicks SM, Middleton D. Bromelain as a treatment for osteoarthritis: a review of clinical studies. Evid Based Complement Alternat Med. 2004;1:251–257. doi: 10.1093/ecam/neh035. [PMC free article] [PubMed] [CrossRef] [Google Scholar]
**This is a subjective assessment based on the strength of the available informations and our estimation of efficacy.
*Result may vary. If you are pregnant, nursing, have a serious medical condition, or have a history of heart conditions we suggest consulting with a physician before using any supplement. The information contained in this website is provided for general informational purposes only. It is not intended to diagnose, treat, cure, or prevent any disease and should not be relied upon as a medical advice. Always consult your doctor before using any supplements.
Disclosure of Material connection: Some of the links in the post above are "associate sales links." This means if you can click on the link and purchase an item, we will receive a commission. Regardless, we only recommend products or services which we use personally and/or believe will add value to our readers. We are disclosing this in accordance with the Federal Trade Commission's 16 CFR, Part 255: "Guides Concerning the Use of Endorsements and Testimonials."